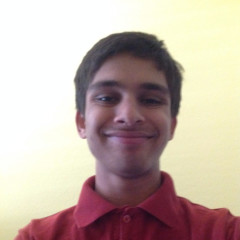 Vinayak
Every book I read helps educate a child in India
Dear Friends,
Hello! I am currently participating in Pratham USA Readathon 2016.I am participating in this program because I would like to help less fortunate children get a proper education to vastly increase their learning abilities. Pratham is a not-for-profit organization that is educating millions of kids in India since it was founded in 1995. It is very well known and has won many international awards for its work in child literacy and education. Pratham USA raises funds and awareness in the US for this important cause. Please visit www.prathamusa.org for more information.
Pratham needs only $25 to educate one child for one whole year. Reading is my favorite hobby because when I read, it helps me use my imagination to truly understand the thoughts of the author, it helps me increase my vocabulary, and it gives me more knowledge about the world we live in. I am so happy that with your donation, my reading will help many other children. I plan to read 40 books this year. Please support my Readathon by making a donation to Pratham USA today. Thank you so much!
Love,
Vinayak A.
Hello! So far I have read 5 more great books this summer!
The Invisible Man by H.G. Wells- This tells the story of mad scientist who arrives in a small town called Bramblehurst. The townsfolk get suspicious of him quickly, and rightfully so. It turns out he is driving himself crazy trying to find the formula for invisibility. This suspense-filled novel will keep you reading through the entire book.
Me & Jack by Danette Haworth- This great novel is about a boy named Joshua who has trouble fitting in as "the new kid." But, he finds a new dog that just connects with him and they grow attached to each other. He's not very popular due to his dad being in the military during the time of a controversial war, the Vietnam War. So, when accusations are made against his dog, he will have to defend Jack( his dog), himself, and his entire family. Read this phenomenal page-turner to discover this great story.
Hawaii Island legends by Mary Pukui- This book has a variety of interesting stories that incorporate Hawaiian culture. There are stories of gods, godesses, chiefs, and people with superhuman abilities. Read this book to see all of these fascinating stories.
Todhunter Moon, Book One: Pathfinder by Angie Sage-This book is truly a great start to the sequel series of the great Septimus Heap series. It tells the story of a great adventure,where a young PathFinder named Tod Hunter Moon goes to save her family from Darke( dark in the Septimus Heap Universe) sorcerers. To do this she must truly find her own Magyk( a special type of magic in the Septimus Heap Universe) and embrace herself as a PathFinder. Read this riveting novel to see this epic plot play out.
read more updates »
Read stories of real lives changed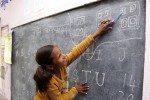 Smita loves showing off what she has learnt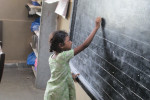 Arshiya wants to teach English!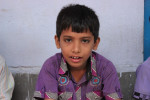 Nagaraju gains confidence!
Engineering a future for Palak
Pratham is the largest not-for-profit organization providing quality education to underprivileged children in India. Pratham uses very low-cost and scalable methods and works in collaboration with the government, local communities, parents, teachers and volunteers across the country to educate millions of children every year. Pratham's mission is "Every Child in School and Learning Well."
"Pratham USA, a 501(c)(3) nonprofit organization with a four-star rating (the highest possible) from Charity Navigator accepts tax deductible contributions from U.S. donors to help Pratham continue and expand its work for child literacy and education. For more information, visit  www.prathamusa.org or visit our page on Facebook, or Instagram".
Tell Vinayak why you this cause!