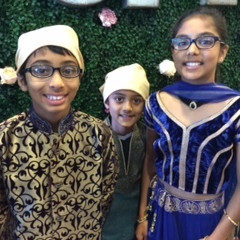 Yogi's IPADs
$7,444 from 37 donors
1 update
$7,000 goal met!
Every book I read helps educate a child in India
Dear Auntie/Uncle/Ba/Dada/Didi/Bhai,
JSK / Namaste from Yogidada's IPADs. (Remember Charlie's Angels?):
We are Krish, Isha and Kavish from Dallas, Texas. Yogidada defines us – the third generation – as IPADs (India Proud American Desi). We love being called IPADs as much as we love our own IPADs.
This summer, we are reading and raising money by taking part in Pratham USA Readathon. Each of us plan to read 7 books asking you to sponsor us $10, $20, $30, $40, or $50 per book donating $70, $140, $210, $280, or $350. Our goal is to raise $10,000 that will help 400 children in India with basic skills of reading, writing and counting.
In case, you are wondering why we are asking you to donate $70 and its multiples? Sadly, its Kumon that makes us think in terms of multiples!!!. But, guess what! Yogidada is turning 70 this Fall. We, as his IPADs, like to celebrate his 70th Big Day by reading books and raising $7,000. We cannot imagine any gift that would make him happier than a donation to Pratham children!
You already know what Pratham does. If not, just google it and find out. You can do it because you know how to read and write. Pratham's work is so good that our FOB grandparents and ABCD parents support it. Now, we the IPADs are joining them ready to bat for India's needy children. We are donating $70 each from our personal allowances. Hope you join us and donate online now. Thanks.
Love,
Krish, Isha and Kavish
PS:
Redefining- FOB : "Fearless, Original and Bold". ABCD: "American Born Compassionate Desi"
Defining- IPAD: "India Proud American Desi"
Offline donations: $500 check, $200 winning Free to Read My Favorite book contest (2), $1,000 check from Shazad and Anishta Premjee, $300 transfer from Chandni and Erwan – thank you all.
Dear Yogidada,
Thank you for all you do for us. We love to read and help poor children in India to learn reading.
Krish, Isha and Kavish
Yogi's IPADs
Read stories of real lives changed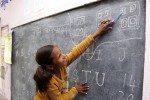 Smita loves showing off what she has learnt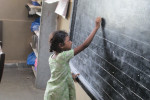 Arshiya wants to teach English!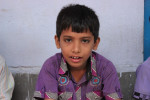 Nagaraju gains confidence!
Engineering a future for Palak
Pratham USA - Every Child In School and Learning Well
Pratham is the largest not-for-profit organization providing quality education to underprivileged children in India. Pratham uses very low-cost and scalable methods and works in collaboration with the government, local communities, parents, teachers and volunteers across the country to educate millions of children every year. Pratham's mission is "Every Child in School and Learning Well."
Pratham USA, a 501(c)(3) nonprofit organization with a four-star rating (the highest possible) from Charity Navigator accepts tax deductible contributions from U.S. donors to help Pratham continue and expand its work for child literacy and education. For more information, visit www.prathamusa.org.
Tell Yogi's IPADs why you this cause!