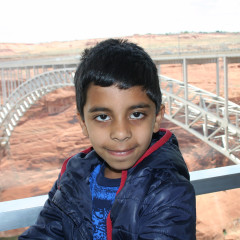 Vijayan
Every book I read helps educate a child in India
Dear Friends,
I am participating in Pratham USA Readathon 2016 because I want to help less fortunate children attend Pratham schools and learn to read, write and count well. Pratham is a not-for-profit organization that is educating millions of kids in India since it was founded in 1995. It is very well known and has won many international awards for its work in child literacy and education. Pratham USA raises funds and awareness in the US for this important cause. Please visit www.prathamusa.org for more information.
Pratham needs only $25 to educate one child for one whole year. I love to read because when I read, I can learn a lot, meet new people, discover new places, find new ideas, improve my vocabulary, use my imagination and never get bored! I am so happy that with your donation, my reading will help many other children. I am going to read 10 books. Please support my Readathon by making a donation to Pratham USA today.
At this time, I would like to thank my parents, Aadith Anna, Pam Periamma and Prasath uncle who have supported my Readathon by donating money for my reading to help other less fortunate kids go to school.
I have read 7 books so far.
Below are some details about the books I have read.
Book 1: Trains
This book talks about when the first trains where made and how they were built. It also talks about modern day trains. Rack and pinion railways make it possible for trains to climb up steep slopes. When high speed trains go on very straight tracks and some high speed trains have pointed nose that can make it cut through the wind. In some trains, it takes days to get to the other place. So, they have beds that fold out of the wall. On some trains, passengers stay in rooms or cabins. In the morning a steward brings drinks and breakfast. A sharp spinning disk slices into a hill or a mountain making a hole for the trains to go through it. We also learn about different fuels used to power the trains.
Book 2: Planet Earth
This book is all about our planet Earth. It talks about Caves, how they are formed, stalactites, stalagmites. Then we also get details on running rivers, sky high mountains, rocks, Volcanoes, how they erupt, cold places on Earth etc. and also some cool details about Earth.
Book 3: The Blue Jackal
A Jackal tried to trick other animals of the jungle and finally got chased away once they came to know that the Jackal had tricked them. From this story we learn that we should never tell lies and never trick anyone.
Book 4: Krishna and Kaliya
This illustrates how Lord Krishna subdued Kaliya the snake, made him his devotee and made him leave Yamuna river. Krishna plays with Kaliya while Kaliya thinks he is fighting with Krishna.
Book 5: Little Hanuman
This talks about Lord Haunman's childhood. It's so funny that he thought the sun to be a fruit and leaped into the sky to eat it.
Book 6: The Wild swans
This is a fairy tale about a princess and her 11 brothers who were turned to swans by an evil witch. The moral of the story is love your family and do your best to always help others.
Book 7: Star wars Jedi Training
This book teaches what it takes to be a Jedi. We need to have focus, stay calm, be alert, be kind, help others among other good things. The cool feature of this book is that there are some cool activities for the readers like balancing on 1 foot, close your eyes at list all objects in your room etc.
Love,
Vijayan
Hi everyone,
I am so thankful and happy that I have raised $75 so far which means 3 kids will be going to school this year. I am looking forward to raising more and reaching my target of $250 which would mean sending 25 kids to school. I am doing my part of reading. I have read 7 books so far. I request you all to support my readathon and help less fortunate kids in India go to school.
Sincerely,
Vijayan
read more updates »
Read stories of real lives changed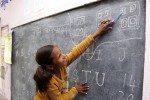 Smita loves showing off what she has learnt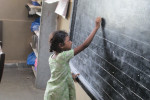 Arshiya wants to teach English!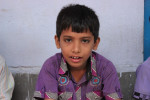 Nagaraju gains confidence!
Engineering a future for Palak
Pratham is the largest not-for-profit organization providing quality education to underprivileged children in India. Pratham uses very low-cost and scalable methods and works in collaboration with the government, local communities, parents, teachers and volunteers across the country to educate millions of children every year. Pratham's mission is "Every Child in School and Learning Well."
"Pratham USA, a 501(c)(3) nonprofit organization with a four-star rating (the highest possible) from Charity Navigator accepts tax deductible contributions from U.S. donors to help Pratham continue and expand its work for child literacy and education. For more information, visit  www.prathamusa.org or visit our page on Facebook, or Instagram".
Tell Vijayan why you this cause!