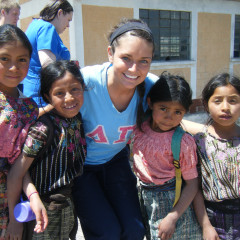 Victoria
$1,000 from 14 donors
$300 goal met!
Help me bring life-changing health services to patients throughout Guatemala
Friends and Family,
Timmy Global Health is an amazing non-profit organization that works to empower students to give them the ability to provide continuous healthcare to place like Guatemala. The Butler University chapter travels to Guatemala each May with a medical brigade team to provide life changing care to hundreds of patients.
Supporting Timmy Global Health will provide health services to the underserved patients who are fighting health disparities daily. Your donation will provide funding for primary care visits, transportation for the referral program, health education, medication and vitamins, and so much more. Even a small donation can make a HUGE difference in the lives of the patients we see in Guatemala.
The opportunity that Timmy has given me to provide continuity of care to those in Guatemala, along with those here in Indiana, has been the most rewarding experience of my life thus far. I am so grateful to work with others who are passionate about this cause and see how together we can change the lives of others. Please help me continue in my mission to help cure global health disparities by contributing to the cause. Thank you for your support!
About Timmy Global Health
Timmy Global Health works to expand access to healthcare to communities that are most in need by responsibly integrating students and volunteers into sustainable global health programs. Each year, we treat 14,000 patients in 5 countries by sending over 600 volunteers to support our clinics abroad. All while ensuring that 94% of our annual budget goes directly to programming.
Tell Victoria why you this cause!