Members
I'm Soph Eisner, a seventh grader at the Seattle Girls' School. As a culminating event to our school year, we all pick an important world issue we think we can fix. I get the opportunity to travel to India soon, and will witness poverty first hand, so I chose the lack of access to clean water in India as my issue.
My life consists of a healthy family and a bright future. This was not the reality for Indian 20 year-old Abarash. Abarash started traveling to collect water since she was six years old. She never got the chance to go to school, and neither have her several kids. After someone installed a water pump close to her home, she is now able to send her kids to school, and use her time for other things like making an income to support her family.
There are over one billion people in India and 76 percent of them live on less than two dollars a day. And in some areas, water privatization makes the poorest Indians' water too expensive.
Earlier this month, my schoolmate and I participated in Water First's (the organization that installed Abarash's water pump) "Carry 5″ fundraiser. The challenge was to carry five gallons of water for five kilometers, the average walk for water made by women and children in third world countries. It was a lot of work! I can't believe that millions of women and children do that every day. But thanks to everyone who supported us with pledges, we raised $735. That's enough to provide almost 10 people with clean water for life.
When I realized it was possible for us to change the lives of 10 people, I decided to do it again, with a different organization, Ekoventure. It's a non-profit that installs water filters in poverty stricken schools in South India. Drinking dirty water can take a child out of school. Seven people a day die from dehydration or a water related disease. That is about eight people since you have started reading this. I hope to raise enough money for six water filters, which will give 150 children access to clean, safe water.
Together we can create a bright future for these kids. Having easily accessible, clean water is life changing. It's the first step toward breaking the cycle of poverty. Please be a part of solving the problem by donating at least five dollars to my campaign to help me reach my goal of helping 150 children!
Thank you!
Read stories of real lives changed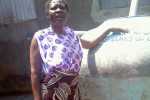 A community gets access to safe water
Tell Soph why you this cause!