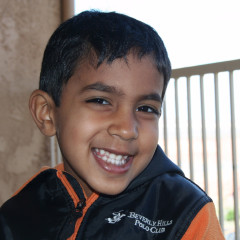 Siddarth
Every book I read helps educate a child in India
Dear Friends,
I am participating in Pratham USA Readathon 2016 because I want to help less fortunate children attend Pratham schools and learn to read, write and count well. Pratham is a not-for-profit organization that is educating millions of kids in India since it was founded in 1995. It is very well known and has won many international awards for its work in child literacy and education. Pratham USA raises funds and awareness in the US for this important cause. Please visit www.prathamusa.org for more information.
Pratham needs only $25 to educate one child for one whole year. I love to read because when I read, I can learn a lot, meet new people, discover new places, find new ideas, improve my vocabulary, use my imagination and never get bored! I am so happy that with your donation, my reading will help many other children. I am going to read 15 books. Please support my Readathon by making a donation to Pratham USA today.
I would like to thank my parents, Aadthi Anna and Prasath uncle for supporting my readathon by donating money which helps less fortunate kids in India go to school.
I have read 12 books so far.
Below are the books I have read.
Book 1: Star wars- Phantom Menace
This story is about how Anakin Skywalker becomes a Jedi. In this story we are introduced to characters like Queen Amaidala, Obi-wan Kenobi and other Jedi masters and how they rescued the Queen and the 2 battles fought by the Jedi when in one Obi-wan's master Qui-Gon Jinn dies.
Book 2: Star wars – Revenge of the Sith
This book is about Anakin becoming Darth Vader. Anakin and Obi wan blast off in their star fighters. Chancellor Palpatine was captured by General Grevious and then there was a fight with Anakin and Obi-wan Vs Count Dooku. Obi-wan killed General Grevious with a gun in the battle. Chancellor tells Anakin that he is not the Chancellor but really Darth Sidious and tricked Anakin to join the dark side. Anakin marched with the clone troopers. Anakin is mad at Padme Amaidala and he fights Obi-wan above rivers of flowing lava. Obi-wan slices Anakin's legs with his light saber and lava comes on Anakin. Padme Amaidala gets 2 babies named Luke and Leia. Anakin turned to the dark side and then he becomes Darth Vader.
Book 3: Star wars – Return of the Jedi
This book talks about the destruction of the death star and the death of Darth Vader. Hansolo turns into Kryptonite and Princess Leia got an armor by Jaba the hut and captured Chewbacaa. Luke opens a cage, a monster comes out and Luke takes a bone to destroy the monster. C-3PO says stories to the Ewoks. Emperor Plapatine sits in his chair and Luke and Darth Vader engage in a Duel. Emperor Palpatine zaps lightning on Luke when Luke says " Help me father" to Darth Vader.So, Darth Vader carried emperor Palpatine to the reactor shaft and threw him in. And then, Luke took off Darth Vader's helmet and then Darth Vader died. The death star was also destroyed.
Book 4: Captain America Civil War
This book introduces all the avengers. They are trained well and work as a team to keep the world safe. They fight many battles. In this book they fight Crossbones who steals a test tube filled with virus that can hurt people. Cap is also looking for his buddy Bucky the Winter soldier and so does Black Panther. They fight with Panther and in the end Black Panther joins the Avengers team.
Book 5: Little people to the rescue
The kids visit a fire station. At that time, there comes an emergency and the fire fighters along with the kids and the rescue dog help save the day.
Book 6: The invincible Iron Man
This book conveys the message " Heroes aren't born, they are built". Tony Stark who is very good at science builds an armor which is very strong and can fly. When he wears this armor, he calls himself IronMan and he helps keep the world a safe place by fighting all the bad guys.
Book 7: The Blue Jackal
A Jackal tried to trick other animals of the jungle and finally got chased away once they came to know that the Jackal had tricked them. From this story I learnt that we should never tell lies and never trick anyone.
Book 8: Krishna and Kaliya
This illustrates how Lord Krishna subdued Kaliya the snake, made him his devotee and made him leave Yamuna river. Krishna plays with Kaliya while Kaliya thinks he is fighting with Krishna.
Book 9: Little Hanuman
This talks about Lord Haunman's childhood. It's so funny that he thought the sun to be a fruit and leaped into the sky to eat it.
Book 10: The Wild swans
This is a fairy tale about a princess and her 11 brothers who were turned to swans by an evil witch. The moral of the story is love your family and do your best to always help others.
Book 11: Star wars Jedi Training
This book teaches what it takes to be a Jedi. We need to have focus, stay calm, be alert, be kind, help others among other good things. The cool feature of this book is that there are some cool activities for the readers like balancing on 1 foot, close your eyes at list all objects in your room etc.
Book 12: Swim Goofy swim
This is a cool Disney book. I learnt that we should never go swimming alone and we should always help our friends in need.
Love,
Siddarth (Siddu)
Hi everyone,
I am so thankful and happy that I have raised $75 so far which means 3 kids will be going to school this year. I am looking forward to raising more and reaching my target of $250 which would mean sending 25 kids to school. I am doing my part of reading. I have read 12 books so far. I request you all to support my readathon and help less fortunate kids in India go to school.
Sincerely,
Siddarth (Siddu)
read more updates »
Read stories of real lives changed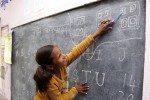 Smita loves showing off what she has learnt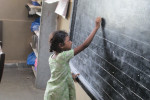 Arshiya wants to teach English!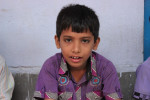 Nagaraju gains confidence!
Engineering a future for Palak
Pratham is the largest not-for-profit organization providing quality education to underprivileged children in India. Pratham uses very low-cost and scalable methods and works in collaboration with the government, local communities, parents, teachers and volunteers across the country to educate millions of children every year. Pratham's mission is "Every Child in School and Learning Well."
"Pratham USA, a 501(c)(3) nonprofit organization with a four-star rating (the highest possible) from Charity Navigator accepts tax deductible contributions from U.S. donors to help Pratham continue and expand its work for child literacy and education. For more information, visit  www.prathamusa.org or visit our page on Facebook, or Instagram".
Tell Siddarth why you this cause!