Jane
$500 from 1 donor
$2,000 goal
Dyslexic All Day will Change John's Life
Dear Family,
As you all know, John, Levon and I have been on a journey to create a school that will support John's struggles with dyslexia while challenging his incredibly bright mind. Five years and many inspired conversations later, we have launched Dyslexic All Day.
Please watch this video. If you are inspired, please consider supporting us in our work. This is important work and will change many lives.
With Gratitude,
Jane
ps – when you donate the SeeYourImpact site will ask for an email address – this is simply to send you a thank you note and receipt for tax purposes!
Read stories of real lives changed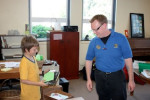 Hoping for the BEST
Tell Jane why you this cause!