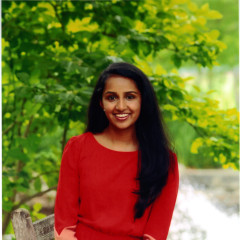 Divya
Every book I read helps educate a child in India
Dear Family, Friends, Supporters and Well-wishers,
Thank you so much for generously supporting my various Readathons and other fundraisers for Pratham over the years. As many of you already know, I graduated from the Hockaday School this year, and have chosen to attend Washington University in St. Louis.
I feel so fortunate to be able to attend a great college like Wash U here in the US. But there are millions of children in India who are unable to get access to even basic literacy instruction. Pratham is changing that slowly but surely, and hence I want to continue to support its efforts.
This year, I especially want to champion Pratham's Second Chance program, through which underprivileged girls and young women (who have had to drop out of school for various social, cultural, financial and logistical reasons) get a second chance to complete their high school education and get their diploma (GED equivalent). Having just completed my own high school education, I know how difficult and yet rewarding this process is, and feel naturally drawn to this initiative. Additionally, a high school diploma will help these girls seek meaningful employment instead of doing menial work for the rest of their lives. It costs $500 and takes at least 2 years of intensive teaching and tutoring with Pratham teachers and curriculum for a girl to be qualified to take the state level high school examination.
My goal is to raise $20,000 by the end of this year, which will enable Pratham to prepare at least 40 girls for their high school exam in 2015. I am calling this my Passage-to-College Fundraiser for Pratham, since as a part of my fundraiser, I shall share some lessons I have learned and insights I have gained as I transitioned from high school to college. I also plan to send you a field report about the Second Chance program when I visit India next summer.
Thank you to all those whose graduation gift checks have been donated to Pratham and added to this page, Yasmin aunty, Geeta bua, Anupa aunty and Meeta aunty.
Thank you to all the following uncles, aunties, family and friends for supporting my fundraiser via the Readathon page on the Skoll SE challenge.
I also want to thank those who have continued to send me their checks: U.K. and Sharda Gupta, Samir and Asawari Salvi
Thank you everyone. I am really grateful for your support.
Love,
Divya
Raj and Shailini Sisodia, Sujata and Raja Ray, Rajeev and Mangala Lonkar, Sushma and Dev Mahajan, Meera and Dipinder Singh, Rujuta and Suneet Salvi, Almudena and Helmuth Ludwig, Asawari and Samir Salvi, Indu J Singh, Barbara and Todd Bluedorn, Manju and Venu Menon, Jasleen and Sandeep Salvi, Jyoti and Ashish Masih, Roy and Mini Joseph, Rupa and Ketan Mehta, Judith Steinhoff, Roop and Satish Ahluwalia, Sharon and Kip Tindell, Prabhavati Salvi
Girl's education is a cause that is very close to my heart. I have been so lucky to be born in a family and grow up in a society that does not let my gender prevent me from attaining an excellent education. My experiences from eight years at Hockaday, a school dedicated to this mission has shown me firsthand why creating intelligent, self-assured young women is so important.
There are millions of girls in India who do not have any semblance of the opportunities that I and all of my peers in the US enjoy. This despite the many studies which have shown that educating a girl is a sure way to improving the quality of life of a community. Educating a girl, especially one in her late teens and early twenties, gives her the power to make her own decisions, the power to decide what is right for her own family, and the power to shape her own future. Educating a young woman will ensure that her children get the opportunity for education in the future. Educating young women leads to a substantially lower occurrence of poverty, disease, and violence in households and around her community.
Given all of the above, I am dedicating my fundraiser to Second Chance, Pratham's program that empowers older girls and young women who have dropped out of school to get their high school diploma.
In 2014, nearly 4,000 girls assisted by Pratham appeared for the (GED equivalent) exam and more than 70% of those passed, which is a rate higher than the national average. The same techniques and innovative approaches that have enabled Pratham to improve child literacy and education rates in India are also helping Pratham be more successful in helping girls earn their high school diploma.
If my efforts to inform opinion and raise funds for this program in the US can result in even one additional girl getting her high school diploma, I will be so happy. Pratham needs only $500 on average to tutor a girl for 2 years and prepare her to take the exam.
To the Pratham girls in India I will say study hard and have faith that you can do this. To my US friends who are in high school right now, I will recommend the same, with a caveat. Along with academic excellence and a strong work ethic (as evidenced by high GPA and SAT/ACT scores), you will need some unusual extra-curricular activities and a committed community service record to impress the college admissions officers. Your essays and recommendation letters are equally important factors. And finally the institutional priorities of a college have to be in your favor. Just do your best and leave the rest. Upon graduation, the right college awaits.
Once you have been accepted by the colleges, here is my advice for choosing the right college. Just as with school, classes and teachers, the right college for you is all about the right fit. Like wearing a comfortable pair of shoes, like being at home in your favorite PJs. Once you have determined your top 3 or 4 choices (from amongst the ones which have admitted you), you should visit each one of those college and get "a feel" for each campus – the students, the professors, the administrators, the cafeterias, the dorms, the vibe et al. And then close your eyes, take a deep breath and on a ranking-neutral basis, choose the one that feels right for you. And for the next four years, you will find yourself the happiest there!
read more updates »
Read stories of real lives changed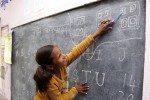 Smita loves showing off what she has learnt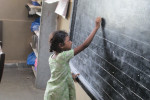 Arshiya wants to teach English!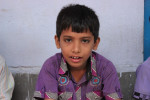 Nagaraju gains confidence!
Engineering a future for Palak
Pratham USA - Every Child In School and Learning Well
Pratham is the largest not-for-profit organization providing quality education to underprivileged children in India. Pratham uses very low-cost and scalable methods and works in collaboration with the government, local communities, parents, teachers and volunteers across the country to educate millions of children every year. Pratham's mission is "Every Child in School and Learning Well."
Pratham USA, a 501(c)(3) nonprofit organization with a four-star rating (the highest possible) from Charity Navigator accepts tax deductible contributions from U.S. donors to help Pratham continue and expand its work for child literacy and education. For more information, visit www.prathamusa.org.
Tell Divya why you this cause!