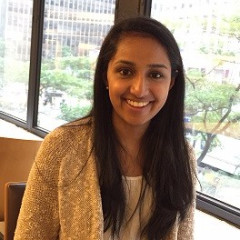 Divya
$11,044 from 13 donors
$12,000 goal
Every book I read helps educate a child in India
Dear Friends,
The dictionary definition of education is: 1) the process of receiving or giving systematic instruction, especially at a school or university. And 2) an enlightening experience. Since previously, I have focused upon the first definition for myself and the children of Pratham, I thought I would share with you the various enlightening experiences aka many other types of "education" I received this year.
1.A summer program at Georgetown's School of Foreign Service in Doha, Qatar where I took courses in National Intelligence & Security and World Economics surrounded by students from many Middle Eastern countries (Qatar, Saudi Arabia, Egypt, Bahrain to name a few) resulted in an unique cultural education. Beyond just academics, I gained the priceless perspective of studying international politics in an environment very different from the US. Doha was also a great place to practice my Arabic language skills, which I have been studying for more than 2 years now, and which to me represent a unique gateway into understanding an important geo-political region of the world.
2.Summer internship with Pfizer in New York City was an eye opening professional education. My first foray into corporate America generated insights into the nuances of everyday work as well as helped me appreciate the significance of the seemingly small details in determining professional outcomes. Tasks such as drafting an email, creating a PowerPoint, organizing an Excel sheet were critical activities that I had never been taught in an academic setting. This was a new education entirely, but one that I am sure will be of great importance once I begin my career.
3.Interviews for a variety of internships at the start of my junior year in college gave me an education in communication, as I was compelled to package almost two decades of "education" into a thirty minute conversation, sell my "skills", and, most importantly, effectively communicate my value-added beyond the grades and other achievements listed on my resume. Recognizing that the interviewers are also human beings, with their own goals, motives and aspirations was a break-through of sorts, both in interpersonal connections as well as in accepting their hiring decisions.
4.My political education reached its peak during the elections in 2016. The presidential campaign uniquely touched my life for one weekend in October, when the second debate between the two candidates was hosted by Washington University in St. Louis. I was delighted to win a lottery ticket for the event itself (only 400 student tickets were distributed) and witness history up close. The debate felt more like a game show or sporting event than anything remotely presidential, but nonetheless, I felt very grateful to be there.
5.On November 8th, I received another and even bigger education in democracy. I realized how little I knew about the country in which I was born and raised, and the people that lived within it. The urban educated bubble I lived in was burst irrevocably at the polls. As a result of the election results, I have resolved to do a lot more to make a positive difference in my community, and make my voice heard over the next four years.
6.I look forward to a different aspect of global education when I study at King's College in London next semester January to May 2017. I am not sure what the next five months will look like but I know my education will grow in new and different directions.
2016 has educated me in ways that I never would have expected and taught me the multitude of ways that one can get 'educated. In addition to academics, I have learned so much and remain ever grateful for the ways that I have benefited from the transfer of knowledge and insight from friends, relatives, teachers, opportunities and circumstances.
As this year rapidly draws to a close, I request you to remember how education has enriched your own life. And in that spirit, please consider making a donation to Pratham USA on this page, if at all possible before December 31st.
$500 will enable a girl/young woman to get her high school diploma and potentially and irreversibly transform her familial, social, financial and personal prospects from marginal to magnificent. $25 will allow Pratham to educate one child in a learning camp. No amount is too small or too large to help India move closer towards the lofty goal of a fully educated population in the coming years. Thank you so much for your generosity.
I look forward to hearing from you all and wish you good health and happiness in 2017!
Love,
Divya
Admin note: $7500 in offline donation added from 2 separate anonymous donors. Thank you!
Read stories of real lives changed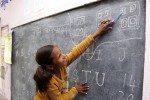 Smita loves showing off what she has learnt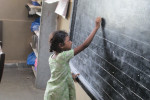 Arshiya wants to teach English!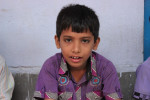 Nagaraju gains confidence!
Engineering a future for Palak
Pratham is the largest not-for-profit organization providing quality education to underprivileged children in India. Pratham uses very low-cost and scalable methods and works in collaboration with the government, local communities, parents, teachers and volunteers across the country to educate millions of children every year. Pratham's mission is "Every Child in School and Learning Well."
"Pratham USA, a 501(c)(3) nonprofit organization with a four-star rating (the highest possible) from Charity Navigator accepts tax deductible contributions from U.S. donors to help Pratham continue and expand its work for child literacy and education. For more information, visit  www.prathamusa.org or visit our page on Facebook, or Instagram".
Tell Divya why you this cause!