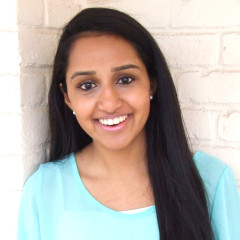 Divya
$12,232 from 25 donors
2 updates
$12,500 goal
Every book I read helps educate a child in India
Dear Friends and Family,
As we get together with our loved ones this week to celebrate another Thanksgiving, I wanted to wish you all healthy, fun and happy holidays and to share with you some of the things I am most grateful for this year.
In addition to all the things I am eternally and always grateful for, such as my family and friends, good health and good socio-economic status et al, the 5 most significant things I am most Grateful for This year are (in chronological order):
1) Sorority of my choice at Washington University in St.Louis
2) Summer internship in Doha with WISE at Qatar Foundation
3) Summer Internship in Dallas with the Container Store
4) Vacation in New York with my aunt, Niti bua
5) Wonderful experience and quality education at WashU
I shall provide additional details of all of the above and also let you know about the books I have read recently, over the course of the next few weeks via updates and emails.
I am so thankful to always be able to rely on your generosity to support a cause that is near and dear to my heart, Pratham and esp. its Second Chance for Education program, which helps girls (who have dropped out of school) to get their high school diploma.
In 2014-15, nearly 4,600 girls assisted by Pratham appeared for the exam (GED equivalent) and more than 75% of those passed, which is a rate higher than the national average. The same techniques and innovative approaches that have enabled Pratham to improve child literacy and education rates in India are also helping Pratham be more successful in helping girls earn their high school diploma. Pratham needs only $500 on average to tutor a girl for 2 years and prepare her to take the exam. My goal is to raise $10,000 and help at least 20 girls graduate from high school, thus increasing the likelihood of a better future for themselves, their families and their future generations. Please help me help Pratham give underprivileged girls in India a Second Chance for Education.
I hope that this Thanksgiving brings you and your families much to be grateful for, as it has done for me.
Love,
Divya
Essay #3
The opportunity to reconnect with my old passion, classical Indian dancing this past summer is yet another thing I am so grateful for this year. I started learning Bharatnatyam when I was five years old in 2001 and completed my Arangetram, the formal classical dance debut in 2012 – a journey of practice and persistence for 11 years. I love this dance form because of both the artistry and the athleticism involved, and so was thrilled to participate in a very special summer dance workshop in 2015 under the auspices of the Indian Cultural Heritage Foundation and the tutelage of my guru, Mrs. Revathi Satyu and a well-known choreographer from India, Mr. Shijith Nambiar that allowed me to enjoy both these aspects.
Rehearsing and dancing each night for two hours after a full day of work at the Container Store proved arduous, but rewarding. Dance has always been my favorite exercise! For me, the physical splendor of this dance style is enhanced by its spiritual underpinnings, as well as the dual challenge of achieving mastery while retaining humility.
Bharatnatyam also places great emphasis on the guru-shishya (or teacher-student) relationship, representing a broader belief in Indian culture, which continues to be reflected in my interactions with all teachers. Through the study of Bharatnatyam, a part of my cultural heritage has been distilled into my personal identity.
The end of my internship at the Container Store coincided with the finale of the dance workshop on August 8th. The sadness of one was somewhat offset by the exhilaration of the other. The very next day on August 9th, I boarded a plane to NY-NJ to enjoy the last few days of summer with a relaxing and highly enjoyable stay with my Aunt Niti.
I am always thoroughly pampered and spoiled when I visit her and this time was no exception–I was able to see the highly-acclaimed musical, Kinky Boots on Broadway, visit the cool fashion exhibits at the Metropolitan Museum of Art, and eat a lifetime worth of amazing food both in wonderful restaurants across Manhattan and also at her home in Morristown, all the while enjoying the great company of my Niti-bua!
We sampled delicious tapas at Food Network Chef, Bobby Flay's restaurant, Gato in Soho on the first evening in NYC, and then each night thereafter wandered further uptown, relishing an array of cuisines, ranging from burgers to sushi. The icing on the cake for me was the opportunity to attend a Container Store grand opening party in Yonkers, New York on August 13th. During my internship at the Container Store I had heard so much about these fabulous parties–the food, the music, the décor, the decorations, and was so excited to be able to see it all firsthand. It was lovely to see some coworkers again and to celebrate this wonderful milestone for the company with them!
I am so grateful to Niti-bua for giving me this amazing and awesome treat of travel, art, food and fun every year for the past so many years. Traveling home to Dallas after this particular trip, I reflected on all the wonderful and rewarding opportunities and experiences I had over the summer–how fortunate I was to have the perfect combination of travel, home, work, play, activity and relaxation all in a few short months!
Of all of the good fortune I am blessed with, the foremost is the excellent education provided to me by a loving family. I want every girl in the world to have this important beginning. Please support the education of underprivileged girls in India by making a donation to my fundraiser for Pratham today. Any amount is most appreciated.
offline credit of $278 on Dec 12th 2015 from anonymous fread matching champion, $1002 from Nipa and Umang Vasa (including $501 Microsoft matching funds), and $3540 from its the season matching challenge funds.
After Doha, I made a quick trip to Mumbai to see my maternal grandmother (Nani) and spend some time with my uncles, aunts and cousins. It was so much fun to see all of them again, and to eat incredibly delicious food at every meal, get lost amidst the rapid Marathi conversations swirling around me, listen to old and new Hindi film songs, watch a Bollywood movie, feel surprisingly comfortable and safe in the busy and bustling market place at Vile Parle, and just hang out with and enjoy the company of my cousins, Trisha and Veer. We have been friends and clowns for each other ever since we were kids.
My summer was not yet over, however, as I was able to return to Dallas for another exciting opportunity. I worked as a Marketing Intern at the Container Store headquarters in Coppell, TX from June 8th to July 31st 2015. What an amazing company The Container Store is! More than just a company that sells beautiful and functional organization tools, The Container Store (TCS) is also known as an organization that practices Conscious Capitalism in the true spirit of the term. The thoughtful and careful way in which they conduct their business and actively align the interests of all stakeholders is practically unheard of in corporate America.
The seven Foundation Principles of TCS guide and inspire all the employees all the time. http://standfor.containerstore.com/our-foundation-principles/. My top-2 personal favorites are:
1) "Fill the Other Guy's Basket to the Brim.." because to me it seems to be an excellent interpretation of the Golden Rule: Do unto others. And
2) "Intuition does not come to an unprepared mind.." because to me, it says: Practice makes Perfect. Or as the famous quote says: the Harder I work, the Luckier I get.. or even, the More you sweat in training, the Less you bleed in battle!
My tasks at the Container Store during my internship were varied and interesting, and included the following super-exciting activities:
•helping with the company's Leadership Conference in June
•signing up non-profit partners to participate in the new holiday campaign of TCS: Holiday Hugs (which is going on now–please stop by a Container Store location and drop off a toy if you can).
The Leadership Conference was held at the Gaylord Texan Resort and Convention Center in June and featured amazing and inspiring speakers like Prof. Raj Sisodia, Co-founder of Conscious Capitalism, Prof. Ed Freeman "father" of Stakeholder Theory; Walter Robb, Co-CEO of Whole Foods Markets; Bob Jordan, EVP and Chief Commercial Officer of Southwest Airlines; and Caryl Stern, President and CEO of the US Fund for UNICEF. Each of these leaders spoke from their heart and shared their conscious ideas, beliefs and advice that touched the hearts of all in the audience, including myself. Kip Tindell, Sharon Tindell and Melissa Reiff are CEO, CMO and COO respectively of the Container Store. They were very considerate and generous hosts and made everyone attending the Leadership Conference feel very comfortable and special.
I really loved working at the Container Store. My colleagues in the Marketing department of TCS were some of the most incredible, interesting and fun people I have met! A long day at the office was a breeze – thanks to their company and guidance. They embodied the company's first Foundation Principle: 1 great person =3 good people.
I wrote two posts for the company's corporate culture blog What We Stand For while I was there, which say it all. Please read when possible. Here are the links:
(http://standfor.containerstore.com/interns-perspective-of-a-concious-company; and
http://standfor.containerstore.com/conversation_with_vp_of_cultural_programs_and_community_relations
My internship with the Container Store was an once-in-a-lifetime experience that made my summer totally enriching and rewarding! A big, heartfelt Thank You to everyone who made it possible.
read more updates »
Read stories of real lives changed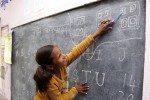 Smita loves showing off what she has learnt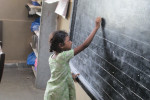 Arshiya wants to teach English!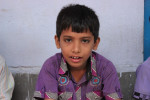 Nagaraju gains confidence!
Engineering a future for Palak
Pratham USA - Every Child In School and Learning Well
Pratham is the largest not-for-profit organization providing quality education to underprivileged children in India. Pratham uses very low-cost and scalable methods and works in collaboration with the government, local communities, parents, teachers and volunteers across the country to educate millions of children every year. Pratham's mission is "Every Child in School and Learning Well."
Pratham USA, a 501(c)(3) nonprofit organization with a four-star rating (the highest possible) from Charity Navigator accepts tax deductible contributions from U.S. donors to help Pratham continue and expand its work for child literacy and education. For more information, visit www.prathamusa.org.
Tell Divya why you this cause!