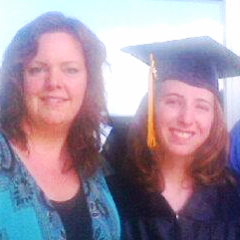 Christine
$1,940 from 26 donors
$5,000 goal
Get my niece's project "Twitch" to the Finish Line!
I am raising money to help my niece, Kristen Powers, finish her documentary, Twitch, which follows her genetic testing for Huntington's disease. Kristen lived her entire life at-risk for this fatal, incurable brain disorder, which ended her mother's life prematurely. She used her genetic testing journey as an opportunity to teach the world about the disease and genetic testing processes through the power of film.
Kristen has already raised $35,000 to professionally create this film. She is in the editing phase and hopes to have it ready for release in winter of 2014.
However, she needs help to get to this final stage. That is why I am asking for your help in providing this documentary with the funds needed to finish editing, musical composition, and distribution.
Twitch is an extremely important story for educating the world about the role of genetic testing in our society, as well as reducing the stigma that surrounds neurological illnesses such as Huntington's disease.
Please help us reach our goal! You can also help us out by sharing this page with your friends and family.
Many thanks!
About Twitch
Twitch follows the life of teenager Kristen Powers as she undergoes genetic testing for Huntington's Disease (HD). The film will follow the emotional, economic, social, and medical aspects of going through this test and what it will mean for Kristen's future. Huntington's disease has great stigma surrounding it, but unmasking its mystery will lift the veil hiding those with neurological disabilities.
Tell Christine why you this cause!