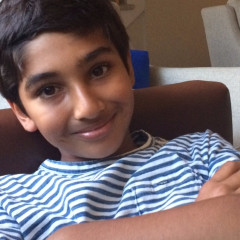 Mihir
Every book I read helps educate a child in India
Hello!
I am taking part in the Pratham USA Readathon again this year, to collect money so that poor children in India can get a better education. I cannot believe that some children who are my age do not know how to read, write, and do math as well as I do! $25 will educate one child for a whole year and if I read 40 books I could collect $1000 or more!
Pratham is a not-for-profit organization that is educating millions of children in India since it was started in 1994. It is very well known and has won many international awards for its work in child literacy and education. I like this program because of the ideas supported around reading. I have participated in the Readathon for 3 years and more are yet to come. For now, let's make the world a better place with your help.
I LOVE to read because when I read I can discover new places, think of new ideas, improve my vocabulary, use my imagination and never get bored! I am so happy that with your donation, my reading will help many other children. Please participate in my Readathon by making a donation to Pratham USA today.
Thank you so much!
Mihir
Hello everybody! How are you? Well, good news awaits you on my newest update! I've read a few books in these past two weeks, and here they are:
1. The Throne of Fire, the sequel to "The Red Pyramid, " from my last update. By Rick Riordan.
This book is a continuing story about the brother and sister, Carter and Sadie, and how now a rising demon called Apophis is eating its way up through our world from it's beetle covered dungeon. In a time crunch of five days, they have to find the three pieces of the book of Ra, use it, find Ra and somehow defeat this monster serpent and his commander, Menshikov, the second most powerful magician in the world. And of course, they get stuck along the way doing useless things and Apophis rises while the world is slowly being terrorized. I am on page 382 out of 503 in this book.
2. Mr. Terupt Falls Again. By Rob Buyea.
My school district gives each of the students a summer reading book we must read and that we can keep for life. The summer reading book for the fifth graders this year was "Mr. Terupt." If you've ever read or heard about the book Wonder, by R.J. Palacio, all the characters in the book get at least one turn to talk and narrate their point of view of the story. The format is the same with this book. So, Mr. Terupt is a new, awesome teacher and with his old class, gets to go and teach them again in 6th grade. Cool, huh? So the kids mature a bit, Peter the class comedian keeps cracking the best jokes and pranks the school will ever see, and they see the principal's underwear. Again! Another great story with an indescribable plot is made by the crafty mind of Rob Buyea.
3. The War that Saved my Life, by Kimberly Brubaker Bradley.
This historical fiction story was based in a time period during world war 2. The main character, Ada, tells the story. Ada has a club foot, which is a foot twisted when born about 180 degrees. Animals and humans can have them. Their mother is too embarrassed to let Ada out, so she's only been out once in her life. And her mother abuses her quite badly. After that one time, she was not allowed to move from her bedroom for the rest of her life. But then, when Jamie, her brother, is getting shipped off to a safer place, four hours by train, Ada, who can barely walk, stows away with him and tries to leave home. They are taken in unwillingly by a kind woman named Ms. Smith. Ada learns how to ride a pony, dress up, walk with crutches, and also learns it's possible to fix her foot! But then, when there's a bombing, Ada and Jamie are found by her mother and are taken home. Then another bombing hits London, where they're living, and they flee and find Ms. Smith and go back with her. Ms. Smith turns out to be a very nice person and the siblings treat her like a mother. A sequel to this book is coming out soon and I'm excited to read it.
Thanks for reading my update. You can still donate to the Readathon if you want me to read even more! I would be happy to. I just heard from Pratham that some schools in Andhra Pradesh will be getting most of your donations, and my mom told me that my grandfather is from there. I will call him tomorrow to give him this good news.
I hope you all are reading some good books, too.
With love,
Mihir.
read more updates »
Read stories of real lives changed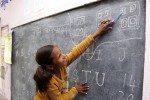 Smita loves showing off what she has learnt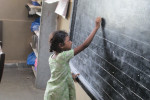 Arshiya wants to teach English!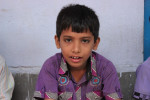 Nagaraju gains confidence!
Engineering a future for Palak
Pratham is the largest not-for-profit organization providing quality education to underprivileged children in India. Pratham uses very low-cost and scalable methods and works in collaboration with the government, local communities, parents, teachers and volunteers across the country to educate millions of children every year. Pratham's mission is "Every Child in School and Learning Well."
"Pratham USA, a 501(c)(3) nonprofit organization with a four-star rating (the highest possible) from Charity Navigator accepts tax deductible contributions from U.S. donors to help Pratham continue and expand its work for child literacy and education. For more information, visit  www.prathamusa.org or visit our page on Facebook, or Instagram".
Tell Mihir why you this cause!