Good Reasons to Give
posted July 20, 2010
Philanthropy is not just something for the wealthy. It's possible for anyone to create change and it's not just about giving money. Everyone has skills that can allow them to "give back" in a number of ways, you don't have to be a graphic designer or lawyer doing pro bono work.
I think sometimes the term philanthropy scares some people off before they have the chance to see the incredible impact their actions and spare change can have. I wanted to take some time to respond to reasons I have heard the in the past for "why I can't donate or volunteer time". Focus on reasons I have heard about why people can't give or volunteer and share some responses to them.
#1 – "I can't afford it." – It's not just people with foundations who can support charity and you certainly don't need $100 or even $50 to create serious change. Giving a gift as little as $15 can positively change a life. As technology and communication have increased so has rapid deployment of funds and accountability of the organizations that they're headed to.
#2 – "I'm too busy!" or "I don't any have time to volunteer" – I have heard this one a lot throughout my career and it's one that deserves a response. In today's 24/7 world we're all busy, all the time. It doesn't mean however that we can't find just 15 minutes here or there to give back to effect change. While boots on the ground can have a huge impact so can volunteering in short bursts. Options abound! Whether it's translating stories or even spreading the word by e-mailing friends. Donating your Twitter status or Facebook status costs nothing and only takes a few minutes. You can also take a second to vote with the Pepsi Refresh Campaign. And you can start here if you're looking for some 15 minute options to volunteer?
#3 – "I don't know where my money goes" and/or "If I give money it will only go to overhead". Charitable organizations are required by the IRS to publicly disclose their annual return. There are a number of sites that help you determine where your dollar is going and even it's effectiveness. Try Charity Navigator, GuideStar, GiveWell, or Charity Watch.
#4 – "I haven't found a cause that really resonates with me." – Remember, it's not necessarily about a cause it's about the people the cause supports. If you're having problems finding a cause that resonates try not to get mixed up with what cause you're actually supporting instead concentrate on who you're helping.
Do these sound familiar? Let us know if you can help add responses to these questions!
Top 11 Free Tools for your Non-Profit
posted July 7, 2010
Top 11 Free Tools for your Non-Profit
When I first started working in the non-profit world 5 years ago "hi-tech" referred to laptops and Blackberries. Computers were a hot commodity and we were lucky enough to have ours donated secondhand from a local company.  We were right in the midst of moving to a more paperless office and I was tasked with cleaning out a decade's worth of paperwork and contacts. It seems the last few years have seen an incredible growth in new Web 2.0 tools. I'd like to share some of the non-profit technology tools that I use on a daily basis in hopes that you find something that may save you time and money. The good news is that all of these tools are free!
1. Blogging – WordPress – One struggle that I always faced as a beginning non-profit employee was that we were all big on our cause but not necessarily the most savvy with Websites and HTML. I wish someone would've introduced me to WordPress sooner! The platform is simple to install and incredibly powerful. I think it's biggest strength however, is the ability to customize with themes and various plug-ins.
2. Calendar – Google Calendar – For some reason calendaring used to be a monstrous task. Making sure calendars were shared, public vs. private and available for editing and updating seemed nearly impossible. With Google Calendar you can share calendars within the office and even with outside volunteers.
3. Networking – LinkedIn – A great way to maintain contacts and connect with volunteers. Additionally, it raises the profile of your non-profit. Create a group and invite your volunteers to join. It's instant advertising on their profile page for everyone who stops by.
4. E-Mail – Google Mail (G-Mail) – For a lot of non-profits getting a Microsoft Exchange Server setup for Outlook can be time consuming and costly. Google Mail makes it easy to get it done quickly and free.
5. Time Tracking – RescueTime – Although there is a paid version of RescueTime there's also a free version that also works exceptionally well. Download RescueTime and let it run for a week. After that go through and properly adjust the categories (especially if you use Twitter and Facebook for Marketing/Communication). You'll be amazed at where you can identify areas to increase productivity and also identify what time of the day you're "in the zone".
6. Blog/Feed Reader – Google Reader - There are a ton of great non-profit blogs out there and Google Reader has been my preferred way of perusing them all. If you haven't start using Google Reader it's well worth the time you take to invest in it.
7. To-do/Task Lists - TeuxDeux – A simple, no frills to-do list. TeuxDeux is by far my favorite to-do list. After using Microsoft Outlook's list and Google Task list I've found that TeuxDeux has a way of keeping it short and simple.
8. Photo Editing – Picnik – Ever have a problem getting your picture just right for a blog post or newsletter? Picnik takes the pain out of photo editing, it's online and best of all it's completely free.
9. Note-taking - EverNote – While working on a project it's nice to have some place to store those random web sites, ideas, and pictures that you stumble across while working and researching. EverNote is a lifesaver in this regard.
10. Documents and Spreadsheets – Google Docs – After having been a Microsoft Word.Excel devotee for a decade and a half I only recently made the jump to Google Docs and Spreadsheets. It's lightweight, has only the features you need and best of all, it's free.
11. Presentation Tools – Prezi – The first time I saw a presentation using Prezi I knew my Powerpoint days were coming to a close. Instead of a slideshow Prezi swoops and zooms through a landscape of pictures, videos, and keywords. It turns presentations into a dynamic.
For a really huge list tools make sure to check out the post by Social Brite's Web 2.0 Productivity Tools.
Are there any free tools that you would add to this list? Let us know in the comments!
Location Aware for the Greater Good
posted June 18, 2010
Location Aware Apps
I confess, I'm on my iPhone entirely too much. Whether it's sending e-mails, sending Tweets, updating Facebook or even writing blog posts it's a device that's my near constant sidekick. I've noticed a trend though recently in the number of articles detailing non-profits use of geolocation apps. I'm sure everyone is well aware of the new breed of geo-location apps Foursquare, Gowalla, and Brightkite. Even Twitter, Facebook and Yelp have been picking up on the geo-location phenomenon. Depending on which one you use you can earn various awards. The only problem is you can't actually do anything with your points, pins, or badges (trust me I'm a mayor).
CauseWorld
A new app CauseWorld allows users to use those points for good, (Techcrunch review here). CauseWorld gives you a great incentive for checking in.  Every time a user checks in they earn  karmas. After earning enough karmas they can be redeemed to help a handful of causes directly through the app. I really love what CauseWorld is doing. As a FourSquare user I find myself checking in at random locations and earning "points" on an everyday basis. It's great to know that by using CauseWorld you can actually give back after  "checking-in".
How are non-profits using Foursquare?
I'd be remiss in this post if I didn't mention a little bit about how non-profits are using location to raise awareness. Mashable did a great article in April covering how non-profits are creating geo-location apps and increasing engagement through their use. Not all of us have the resources to create such awesome apps so I wanted to include a quick couple suggestions for using Foursquare to promote your non-profit.
1. Add yourself to Foursquare – Make sure you've created added your office on Foursquare so that volunteers and friends can check in. Imagine if you have a meeting and your office is the trending location, it'd be pretty cool! (just getting started? Non-profit 2.o has a great post on where to begin with Foursquare)
2. Add some tips – Make it fun for volunteers! Add some cool tips for things to do while they're visiting. If someone notices your venue and you can offer a cool prize who wouldn't want to stop by and see what it's all about?
3. Add your events – When you're having an event add it to Foursquare. It's a great way to be the trending topic and raise a little awareness.
Do you have any other tips for promoting a non-profit with Foursquare?
A Food Drive You Have to See to Believe
posted June 4, 2010 by
Casey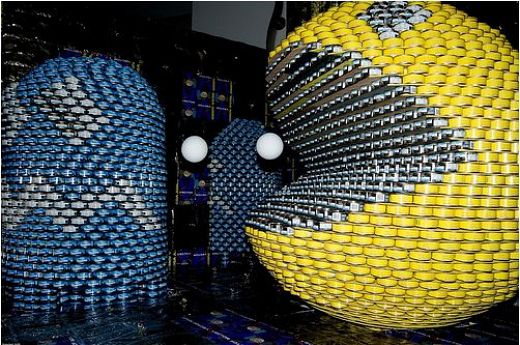 The Preface:
Here at SeeYourImpact we are always on the lookout for novel charities that are making a difference in their communities. Luck was on our side when we stumbled across this gem of a charitable contest.
The Event:
Each June thousands of Seattle urbanites descend on the Seattle center to eat at the Bite of Seattle. But this year visitors are going to get a little more than they bargained for; live entertainment.  The Bite of Seattle is sponsoring a sculpting contest. However this is no mid June, Cannon Beach, sandcastle contest. No, this is a canstruction contest. Teams of architects and designers will descend on the innocent, naïve, Bite of Seattle goers, to blow their minds with eight foot tall sculptures of everything from Pac-Man to caterpillars, using the most allusive medium of all; canned food.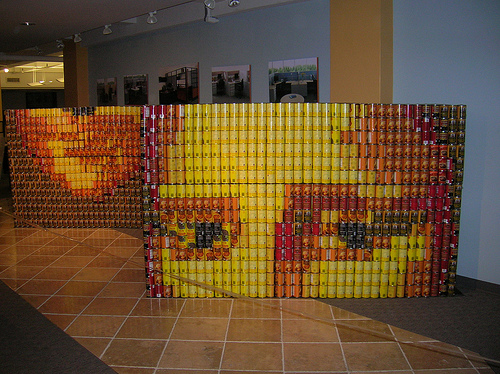 The About:
Canstruction is the brainchild of the American institute of Architecture who originally designed the contest as a novel way to engage architects, engineers and aspiring students in a good spirited architecture challenge. Since its inception the contest has been picked up by various organizations around the world, about 150 approved canstruciton contests are held each year, where winners have the opportunity to gain entry into the national canstruction tournament. Some memorable past winners have been a recreation of the Mona Lisa, a pumpkin pie, and the human sized caterpillar.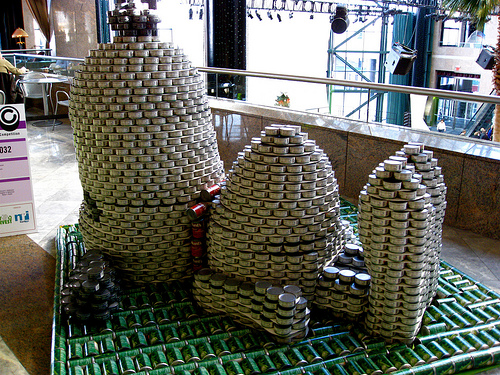 The Rules:
The rules are simple; each team can have as many members as they want, but only five can build at a time. Each team can use as many cans as they want, but they only have twelve hours to construct their masterpieces.  Teams are also limited to sculptures that fit a 10' x 10' x 8' dimension, or 800 cubic feet. There are also various complex rules that involve what kinds of cheating are not allowed, which is to say no kind of cheating is allowed and there are complex rules that outline what that means.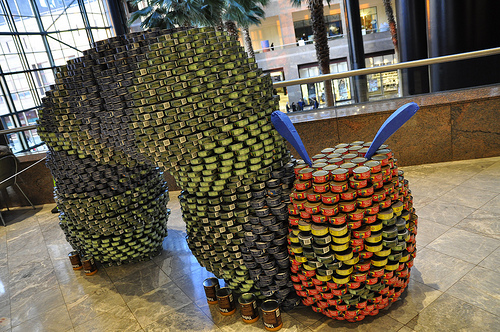 The Impact:
In Seattle, this June, the stakes are high and failure to win means momentary shame, while the top team goes home with event wide fame, glory, and possibly a free meal. But, the real winners are the area food banks. Every canstruction exhibit ends with the dramatic deconstruction of the sculptures, leaving thousands of cans of perfectly edible food in the lurch. It has been a long standing tradition to donate the canned food to food banks, emergency feeding programs, and various charities. Further, during the exhibition visitors are encouraged to donate non-perishables in a good ol' fashion food drive. To date, canstruction events have raised over 10,000,000  pounds of food for food banks, emergency feeding programs, elderly homes, and day cares.  That figure is only going to increase as non-profits realize the significant impact of the contest.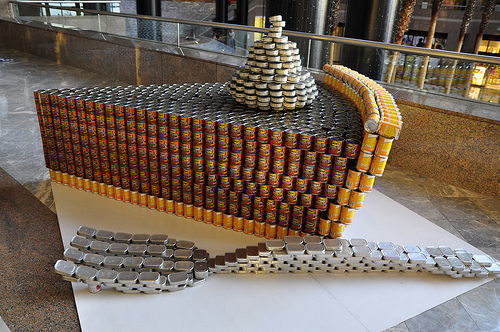 Photos: SpecialKRB/Flickr and Eyesplash/Flicker
Blogs we've enjoyed recently
posted May 24, 2010
It's always fun to find blogs that make you stop and think. At SeeYourImpact we've been building up an ever evolving list of some of our favorite reads.  We recently did a post on our favorite books and thought it might be fun to extend it to digital content as well. Of course, this list gets updated on a regular basis but I thought I'd give a snapshot of a couple blogs we really enjoyed this past week to show you what we're reading right now.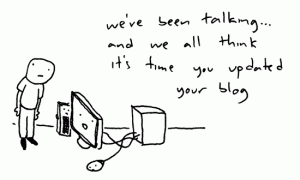 Beth's Blog – One of the reasons I spend too much time on Google Reader -
Charity:Water – It doesn't get more current or funnier than this post.
Community Organizer 2.0 – Clear, concise and lots of talk on Social Media -
Non-profit Tech 2.0 – Provided some very timely updates with info on Facebook, it was much appreciated.
Philanthropy 2173 – Wonderful piece from last Friday morning entitled "Beyond Open Data"
Social Citizen – Great piece on Panera Bread's new "pay-what-you-can-store" store.
Tactical Philanthropy – Had a viral video contest that was really fun to follow along with.
If you don't have a Google Reader account set-up already I really encourage you to do so. It's a fun way to find out what's happening all over the world. Try subscribing to some of the blogs that we suggested above. We'll be posting again in the future with some more good reads of the week and more blogs to follow.
Start a Movement
posted May 19, 2010
Occasionally I'll watch a video that really hits home. The video below from a TED talk by Derek Sivers is a great example.
The video is fun and entertaining but it makes a great point. Every movement starts with a leader, but as Sivers states "leadership is overglorified". It's the first follower who legitimizes the movement and teaches others how to follow.
As a startup non-profit I find the analogy particularly applicable. A good founder avoids getting caught up in their own ego, they realize that it's their followers who make their movement great. Maybe all they truly need is 1,000 of them. The struggle is that many people get caught up in a cause and forget that many hands make light work. In other words…
It's all about your followers.
Inspire. If you can inspire someone else you've accomplished vastly more than you could have alone. As the video shows it was the first follower who truly ignited the movement. Can you imagine if each of your followers or supporters were cheerleaders for your cause inspiring others? Remember, a follower can be a donor, customer, or volunteer. They're someone who's invested time, money or both into your movement.
What to do with followers?
Overall, create opportunities within your organization/company for people to get involved. The key component is making people feel part of a movement. If what you're doing inspires others make sure you have a place for them to dance as well! You need to be moving to create a movement. Once you've given your followers room on the dance floor and got them dancing how do you keep them there?
Freedom and Responsibility
Your followers are there because they want to be there. In the non-profit world it's easy for them to walk away if it gets to be too much. The reasons could be money, time or any combination of things. So how do we keep everyone dancing? As we saw in the video the group kept building, the more your followers inspire the more they'll inspire those around them. Sivers notes that the followers inspire the next wave of followers, not the original leader. Keep in mind, everyone's dance was unique. Each person had the freedom to express their creativity while still participating as a group.
The key takeaway? Just keep dancing.
What have you done to inspire others in your organization? Have you ever looked like the lone nut?
5 Non-Profit Twitter Personalities
posted May 17, 2010
5 Non-Profit Twitter Personalities

I attended a non-profit tech mixer recently and during a presentation a question came up for Adam Loving (@adamloving) from Twibes: "Can you name some non-profits and how they're using twitter?"
After the discussion I decided to weigh in and explore this question a little further. Mashable covers the entire Twittersphere in their post "The 10 Users You'll Meet on Twitter".  While non-profit twitter use is more narrow in scope, we still have our unique personalities in the charitable world.  I present to you a  list of 5 different types of non-profits you'll see on Twitter:
1.     The Pioneers – They blazed the path for today's non-profits and they've made the jump to Social Media. They were groundbreaking over a hundred years ago and they show no signs of letting up. These Trailblazers use Social Media to communicate a strong consistent message to their followers. Follow them for a good example of how organizations adapt to change. Some good examples? American Red Cross (@redcross), American Cancer Society (@AmericanCancer), The Salvation Army @salvationarmy Boys and Girls Club @BGCA_Clubs, Boy Scouts of America (@BoyScouts).
2.      The New Upstart – Active and engaged, these non-profits exist almost entirely in the web and their online presence shows it. @AshokaTweets, @SeeYourImpact (of course), @OneDaysWages, @MalariaNoMore, @FlashVolunteer
3.     The Up and Comer - Still trying to figure out this twitter thing, usually great organizations with excellent offline marketing They've started to follow a few people and are taking information in but don't feel comfortable enough yet to tweet themselves.
4.     The Celebrity – They blast out info on their causes whether it's pictures, news or updates. Great info always. @LiveStrong, @CharityWater, @OneCampaign, @Kiva, @DonorsChoose, @Change
5.     The Expert – Within a few days of being on Twitter, you'll know their names. To have that much of a presence in the twittersphere is no small task.  Follow and learn, or ask them a question to get a great answer.  We recommend following  Beth Kanter of Zoetica (@kanter),  Rosetta Thurman (@RosettaThurman), Joe Brown (@Joe_Brown), John Haydon (@johnhaydon) Amy Sample Ward (@amyrsward) David Neff (@daveiam) Holly Ross (@ntenhross) and Kari Saratovsky (@socialcitizen).

What kind of Twitter user should you be?
We'd all love to be "experts" and "stars", but Twitter fits different needs for different non-profits. I think that as long as:
1. the message is being shared effectively, and
2. the non-profit effectively communicates with active and potential donors/volunteers
that needs are met for both the audience and the organizations.
Do you disagree with these categories? Can you think of anyone that we missed? Let us know in the comments below
Voluntourism
posted May 14, 2010
Hey Honey, let's take a trip overseas and voluntour!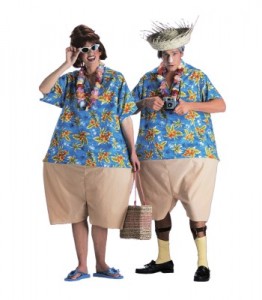 Generally, there are two types of travelers, those who seek to immerse themselves in a new culture and those who are just passing through to catch the tour sights (look over there, it's the Eiffel Tower!) "Voluntourism" takes the first type of traveler and adds an element of service. Instead of passing through without a trace, the voluntourist can make a lasting change on the places they see and people they meet.
Why voluntourism?
During their 1-3 week experience, voluntourists accomplish two things:
1. they literally "get away from it all", and
2. they give back to their host country
It's not a vacation in the traditional sense, but then again, isn't the goal to forget about everyday life for a few days in the first place?
Will voluntourism take off?
Do a google search on voluntourism and it brings up 135,000 results, not a bad number.
Voluntourism is not simply volunteering in an exotic place with a day here and there to see the sights. Several companies, both for profit and non-profit, provide voluntour "vacations". The bigger question for me is the blend of volunteering vs. touring.  For some their work is not complete until they've dug eight wells in eight different villages. For others they'll be quite satisfied helping a little bit everyday knowing that they're giving back with more emphasis on the touring aspect. But ask yourself, is the latter such a bad thing? If every vacation you gave a little back to a community it wouldn't hurt. Susan Ellis does a good job of summing up this point in Pros, Cons, and possibilities of Voluntourism.
Will voluntourism affect charitable giving?
Coming face to face with a problem can change your perspective. For voluntourists, the connection created during their travels will never go away. Ask anyone who has traveled to volunteer within a community. For example, I still feel strong ties to a small community in Maine where I helped repair houses every summer. Even today this area has a special meaning to me and I look for opportunities to give back. I think voluntourism serves to increase ties to communities and in turn charitable giving.
SeeYourImpact's Experience with Voluntourism
Over the past few months SeeYourImpact has sponsored a voluntourist ourselves. Our voluntourist, Megan, helped SeeYourImpact by traveling around India visiting our partners and posting incredible videos. In our case we paid Megan a small sum to help defray costs while she was traveling. Overall it was more a labor of love than anything else.  I'd also like to take this time to thank Megan for the incredible photos and videos she's helped us share with donors and the members of the SeeYourImpact community.
My question for you: where do you dream of voluntouring?
Let's Raise Less Money! The rush to microcharity.
posted May 13, 2010
"Let's raise less money."  It's what many non-profit development officers think when we tell them about microcharity.  They think that if you ask for less money, you'll get less money. In the world of non-profit fundraising their goal is very simple: to raise more money. When you need to raise $100,000 the most direct way to do it is to find a person who'll write a check for $100,000. Asking 10,000 people for $10 each appears insurmountable in comparison.
Microcharities take the path less traveled.
Chasing after 10,000 small donors may seem counterintuitive, but to microcharities it's not about the big money, it's all about the change (pun intended).  Breaking down the barriers between donor and recipient changes the giving landscape. There's no doubt that large grants get things done: the money pays for everything from vaccines, education, and water purifiers to the bills and operating costs of the charity.  Yet writing a big check doesn't necessarily connect that donor with the end beneficiaries. And if you only reach out to the top of the giving pyramid, you've missed an opportunity to connect with the other 99% of the population.
I'm sure any cause would gladly welcome 10,000 enthusiastic new fans, if only they were easier to find.  We think they are!  When you create a real connection with a donor, you're fostering an evangelist, because each small gift touches two lives: the life of the donor and the life of the recipient.  Better yet, chances are that those 10,000 donors will continue to show support, and give even more in the future.
Is it better to raise less money?
I'm not recommending that large gift contributors stop giving to non-profits. But what if we can help to grow a new giving mechanism for the other 99%?  If a donor in Skokie, Illinois can see how their hard-earned dollars had a dramatic effect on someone's life, it will in turn change their world. Contributing $10-30 to a non-profit normally seems like a drop in the bucket, which causes many of us to hold back from giving at all. But when giving $10-30 results in a real picture and story of a changed life, giving takes a on a new dimension.  It's no longer just a monetary transaction.
What examples have you seen of a small amount making a big difference in someone's life?