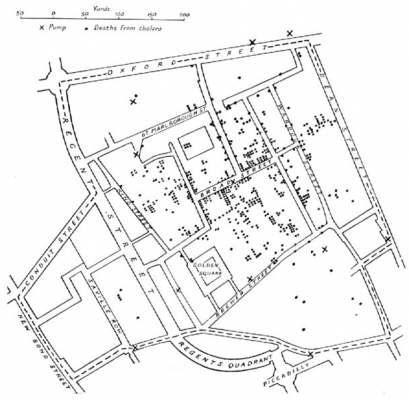 Tracking Disease
The tracking of disease is not a new phenomenon. It's only been within the last two hundred years, however, that we've used maps to help identify where outbreaks occur to try to stop them.  Modern mapping technology has improved tracking diseases in the hopes that we can better predict and plan for their effects. Several new tools have appeared in the past few years in the fight against disease that have the potential to save lives.
Search Tracking
Google Flu Tracker – Google is leveraging it's search traffic by tracking terms related to the flu such to track outbreaks in real time. The goal is to avoid a catastrophe like the 1918 Spanish Influenza. The results have been impressive with Google reporting an outbreak two weeks before the Center for Disease Control. The weakness of the platform however is that it can't tell you if people actually have the flu, only if people are searching for terms concerning the flu. It's a limitation for certain but one that can be addressed given the right formula. The situation gets a little more complicated when those with symptoms aren't using search engines to identify symptoms. In fact, Google's Flu Tracker although an incredible idea is probably best suited for areas with a high population of computer users with internet connection. So what solutions are there for populations without widespread computer use?
Epidemiological Mapping
The World Health Organization's HealthMapper program puts together data from the field into a usable disease map. By combining road accessibility, access to water, demographics, location of communities, health care and education facilities and key geographical data the program allows workers to respond to outbreaks quickly and with the proper resources. The Global Health Atlas takes it one step further by incorporating the data from the HealthMapper application into an online atlas. With 300 indicators and 20 infectious diseases it gives experts the opportunity to compare historical data locate at-risk groups and drug resistant communities and respond properly to outbreaks. Researches pinpoint data realtime with GPS devices while in the field. Another team has taken data a step further to not only try to predict future outbreaks before they happen but how the disease will respond to suppression.
Epidemiological Computer Modeling
A lot more attention has been paid to Intellectual Venture Labs' Mosquito Zapping Laser Beam than to their computer model mapping malaria. But, the modeling of the spread of malaria deserves attention based simply off its incredible potential.  Intellectual Venture Labs' computer model simulates the spread of malaria by incorporating impressive amounts and types of data. The data includes but is not limited to; geography, temperature, rainfall, malaria cases diagnosed, mosquitoes types, mosquito breeding patterns, mosquito behavioral patterns, as well as information on infection patterns and human immune responses. Most importantly the computer model has the ability to predict how the disease responds to suppression techniques. For instance, if a community is supplied with bed nets that cover 70% of the population the computer model could show that the number is insufficient and that 75% is needed for true eradication. The same principle holds true for increases in temperature or rainfall. Better yet, the model factors in cost allowing researches to determine the best and cheapest method.
Although these methods can predict and calculate incredible amounts of information about diseases they're only one step of the process. Providing mosquito nets are a vital link in the chain towards preventing malaria. A mosquito net hanging over a bed at night can save a life. Door of Hope, a SeeYourImpact partner provides mosquito nets for those in need for only $10. I encourage you to check them out and find out what you can do to save a life.

Read more »