The $1 Spectacle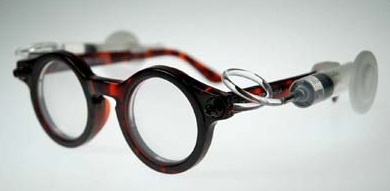 This is not breaking news, simply an amazing story unfolding right under our noses that should be recognized for its potential impact. During TEDGlobal 2009, Josh Silver delivered a powerful presentation outlining his goal to produce Adspec eyeglasses for only $1 a pair to solve a massive world health issue, eye care in the third world. His goal; provide cheap, durable, corrective lenses to more than one billion who need glasses in the developing world.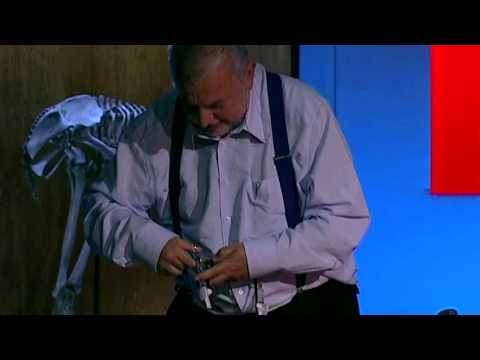 Background
Inspiration struck Josh Silver in 1985, while leading a group of researchers in the Department of Atomic and Laser Physics at the University of Oxford, he realized that certain liquids could be used to change a lenses curvature without impacting the refraction of light (short biography). He continued to work on the liquid-focusing glasses until he had a working prototype in 1996, at which point he founded Adaptive Eyecare to further develop the invention with grant money provided by the UK's Department for International Development. In 2002 Josh Silver became the director of the Centre for Vision in the Developing World, where he is currently perfecting his glasses and conducting small disbursements.
Adspec Design
The current design uses a duel membrane system, where a liquid core is sand-witched between two movable membranes which expand and contracts based on the adjustable oil levels. The silicon oil is inserted into each lens using a syringe specifically designed for the glasses. Adding oil creates an outward curvature which helps with long-sightedness, while removing the oil creates an inward curvature and helps with short-sightedness. Once dialed to the users strength preference the syringe is removed, and can be stored for later adjustment of the lens' correction. The entire system costs about $19 to manufacture and deliver, which is substantially less than most alternatives, especially without the added cost of an eye exam. Yet, Josh Silver aims to reduce the cost to $1 by 2020, in order to make his invention affordable for even the impoverished.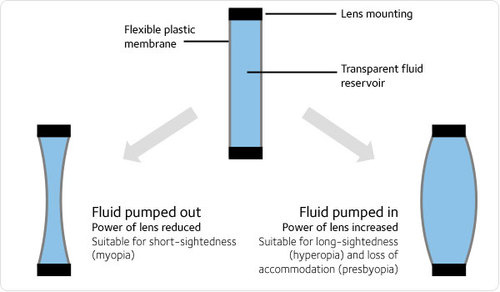 Why?
Poor eyesight poses a sometimes insurmountable barrier in third world countries, where the vast majority of the population does not have access to eye care or corrective lenses. Like many social health problems, poor eye-care is one that has a devastating impact throughout society. The impact starts on the lowest levels, Josh Silver states that about 60% of children require some sort of eye correction, while most corrections at a young age would be minor for some not having access to glasses can be to much, and as a result struggle or entirly fail to complete a basic education, which is a major quality of life indicator. Further, the deterioration of eyesight with age reduces the efficiency of many older workers, and reduces the value of their experience.
Impact
Josh Silver has already seen an impact from the early disbursement of his glasses. He fondly retells the story of Henry Adjei-Mensah. A 35 year old tailor in Ghana, Adjei-Mensah fell into poverty after a forced retirement due to his deteriorating eye sight, he could no longer tread a needle or operate a sewing machine. Selected as a recipient for a trial run of the adjustable-focus glasses, his face lit up as his world came back into view. He immediately pulled a sewing needle and thread from his pocket and successfully slipped the threat through the eye of the needle. Now, Adjei-Mensah has rekindled his career and is able to support himself and his family.
Currently the Centre for Vision in the Developing World has distributed over 30,000 pairs of the liquid-focus glasses in over twenty countries, covering South America, Africa, and Asia. Josh Silver's goal is to distribute one billion pairs by 2020, dubbed Global Vision 2020. The potential of this technology is huge, if the cost can be brought down and manufacturing ramped up this invention could have one of the largest impacts on vision in third world countries.
SeeYourImpact
SeeYourImpact is not affiliated with Josh Silver or the Centre for Vision in the Developing World, however we harbor a great respect for their work. If you are interested in helping a life altering cause through SeeYourImpact the Blind Peoples Association provides top notch care for the visually impaired, and a small donation can provide braille education or a low vision kit and change a life.