Country Profile – Vietnam
posted July 9, 2010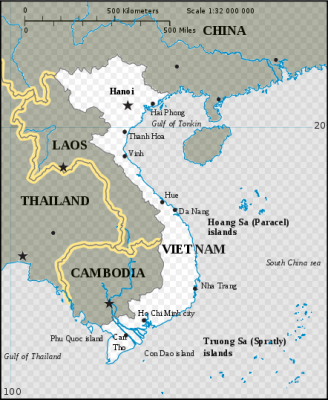 Vietnam Country Profile
Over the past 20 years Vietnam has risen from poverty to a success story of Southeast Asia. After being ravaged by war for decades the country has seen a huge rise in exports and tourism. Today Vietnam boasts a 5.3% real GDP growth rate.
Interesting Facts About Vietnam
Vietnam is the largest exporter of cashews and black pepper in the world (1/3 of the world's black pepper comes from Vietnam)
Verbal responses to compliments are considered impolite, the appropriate response is to smile or blush.
Nguyen is the most common surname in Vietnam. 
Scooters/Motobikes are a preferred method of travel, over 20 million are owned throughout the country.
Áo Dài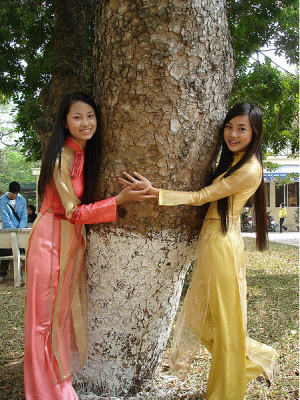 The Áo Dài is a traditional Vietnamese garment worn primarily by women. While unpopular during the late 1970′s the Áo Dài regained popularity in the 90′s and is now standard for weddings. A tight fitting tunic worn over pantaloons it is considered a national dress in Vietnam. The dress is so well known that the words "Áo Dài" appears in the English language dictionary, one of only a handful of Vietnamese words listed.
French Colonization
After nearly 1000 years of an independent Vietnam, the French assisted by Catholic collaborators seized control over the country. Roman Catholicism was promoted and the economy became entirely export. Calls from the Vietnamese for civil rights and self-government were largely ignored by the French. The seeds of an independence movement were sown in 1941 by Ho Chi Minh. After World War II, Ho Chi Minh's liberation movement succeeded in defeating the French at Dien Bien Phu. The French military withdrew and were slowly replaced by American forces.
Vietnam War (the American War)
The conflict between Vietnam is known as the Vietnam War in the United States and The American War to the Vietnamese. What began as a few advisors sent to South Vietnam in the 1950′s would end up costing both sides an incredible lose of life. Finally ending in 1975 the Vietnam War left Vietnam destroyed with millions of civilians and military members killed and wounded.
Our partner in Vietnam
We are proud to support our partner in Vietnam, Medrix. By providing textbooks and training to nurses Medrix is able to train future health care providers to make sure that everyone has access to quality healthcare. Please visit Medrix and welcome them as our a new partner at SeeYourImpact!
Country Profile – Rwanda – A Story of Hope
posted June 30, 2010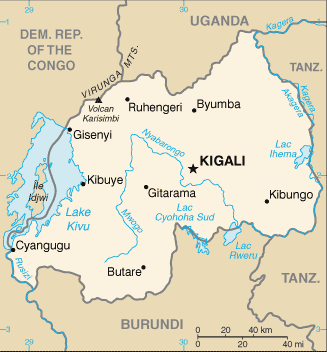 Rwanda Country Profile
The story of Rwanda is one of triumph over tragedy. In 1994, Rwanda drew the spotlight of the world when the two most populous ethnic groups, the Hutus and the Tutsis engaged in genocide against each other in which an estimated 800,000 people were killed. Today, Rwanda has bounced back and achieved incredible economic success with Fortune Magazine going as far to publish an article entitled "Why CEOs Love Rwanda".
Quick Facts
Gained independence from Belgium July 1st, 1962
Rwanda is a member of the commonwealth of Nations but has no British Colonial past.
Rwanda is the only country in the world where women hold a majority in Parliament.
Rwanda is Africa's most densely populated country with a population of 10 million and a land area of 10,169 (about the size of Maryland)
Rwanda's Blue Bourbon Coffee recently won a Starbucks Black Apron Award.
Rwandan Civil War
In 1990 the Rwandan Patriotic Front (RPF), composed primarily of Tutsi refugees, invaded Rwanda through Uganda sparking the Rwandan Civil War. Strife between the Hutus and Tutsis was not new but rather a deadly continuation of a decades old conflict. The RPF fought until a cease-fire agreement was initiated in 1993. The cease-fire agreement abruptly ended in 1994 when the President of Rwanda, Juvénal Habyarimana, plane was shot down kill him. The shooting down of the plane sparked the beginning of the Rwandan Genocide. Tutsis and moderate Hutus were rounded and systematically killed over a period of a few short months. In the aftermath, the RFP took control of the government and banned discrimination based off of ethnicity, race, or religion.
A Booming Economy
In the aftermath of the Rwandan Civil War the country has seen incredible growth. Rwanda currently ranks 13th in the world for Industrial Production Growth Rate and 19th for GDP real growth rate. Additionally, per capita GDP has tripled since 1994 from $390 to $951. Approximately 90% of Rwanda's population farms and farming makes up 39% of Rwanda's GDP. One of Rwanda's main crops and exports is their prize winning coffee.
Rwandan Coffee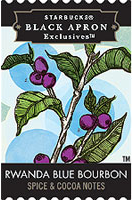 In 2000 a feasibility study was conducted with USAID to explore how Rwandan farmers could add value to their coffee exports. Over the past decade Rwandan Coffee has gone from ordinary to Starbucks. By implementing standardization practices and using local African expertise coffee farmers in Rwanda are now teaching others how it's done. As mentioned in the quick facts above Rwanda Coffee has reached an incredible level of excellence.
Our Partners in Rwanda
SeeYourImpact has partnered with Gardens for Health in Rwanda. By providing a sustainable source of food for HIV and AIDS patients Gardens for Health is changing the lives of families and individuals. I encourage you to visit the Gardens for Health website and give the gift of a home garden to help Rwandans with HIV and AIDS stay healthy.
Country Profile – Ghana
posted June 28, 2010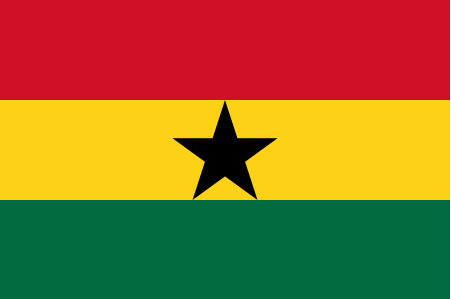 SeeYourImpact recently partnered with the Village Bicycle Project our first partner in Ghana. With the addition of our new partner and the United States and Ghana having just played each other in the World Cup I thought it would be a perfect time for a country profile on Ghana.
Quick Facts
The word Ghana actually means "Warrior King".
Ghana was the first sub-Saharan country to achieve independence.
Ghana is the second largest producer of Cocoa in the world.
Ghana enjoys a high level of free press.
Ghana is home to the largest artificial lake in the world, Lake Volta.
The Ashanti Empire
The modern nation of Ghana includes what was known as the Empire of Ashanti, one of the most powerful states in Sub-Saharan Africa prior to the arrival of  colonial powers. The Akan people of the Ashanti Empire created a powerful state that lasted from 1670-1902. Their incredible military might defeated the British on several occasions and kept them largely independent from colonial powers until 1896. Even today the Ashanti monarchy still exists and is constitutionally protected by Ghana.
Ghana Football
A post on Ghana would not be appropriate without a mention of their famous soccer team. Affectionately known in their homeland as "The Black Stars", for the black star that is represented on their flag, the the roster includes many players who play professionally all over the world. One of their most well know players is Michael Essien, a midfielder, who plays for Chelsea in the Premier League. Ghana's National Team has won the Africa Cup of Nations four times behind only Egypt.
Kente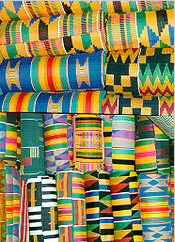 In Ghana, textiles are an important part of culture. Depending on the design and color the cloth can have different meanings.The Kente cloth specifically is a ceremonial cloth from the Ashanti that is hand woven on a treadle loom. Kente is more than just a piece of cloth. It is a visual history and amazingly is a form of written language created through weaving.
Challenges Today
Although Ghana enjoys a stable democracy and relative prosperity isolated rural communities still face many difficulties. One problem of significance is transportation. Consider that a typical trip to a village requires walking 9+ miles. The Village Bicycle Project alleviates this issue by providing bicycles to isolated rural communities.
SeeYourImpact Country Profile: Cambodia
posted June 14, 2010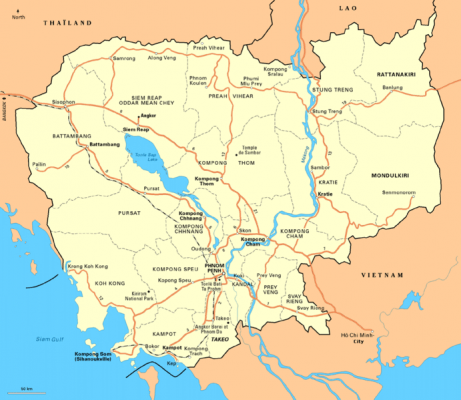 SeeYourImpact recently partnered with our first organization in Cambodia. We're very excited to have them on board and I wanted to share some information about the country to help better understand their rich cultural history.
Cambodia Today
Quick Facts:
Cambodia has a population of just under 15 million. The majority (95%) of the population is Buddhist but also includes Muslim Cham, Ethnic Chinese, Vietnamese and a small tribal animist population.
An aftermath of the civil war, 50% of the population is under the age of 22.
36% of Cambodians live below the poverty line. 20% live below the food poverty line, of those 90% live in rural areas.
The majority of the labor force works in agriculture coming in at a total of 59% of the population.
Cambodia's political structure is a multi-party democracy under a constitutional monarchy. The King appoints the Prime Minister under the advice and approval of the National Assembly.
Angkor Wat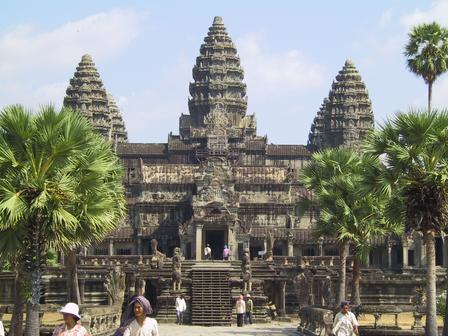 Angkor Wat is a major tourist destination for visitors to Cambodia. By government estimates 50% of visitors to Cambodia traveled to the Siem Reap province to visit the temple. Originally built as a Hindu temple by King Suryavarman II in the 12th Century the temple was changed to a Buddhist Temple by Emperor Srindravarman in the late 13th Century. Angkor Wat is a World Heritage Site. Interestingly, the first Westerners to visit the temple did not believe that the Khmers could have built the temple and instead mistakenly dated it to the same era as Rome.
Khmer Rouge
Cambodia's history is not complete without discussing the Khmer Rouger. An excellent resource from a first hand perspective is the book First They Killed My Father: A Daughter of Cambodia Remembers. The Khmer Rouge led by Pol Pot took power in Phnom Penh in 1975 and attempted to model Cambodia off an 11th century agricultural society. One million Cambodians out of a total population of 8 million died by execution, overwork, starvation and disease. The Khmer Rouge targeted doctors, lawyers, teachers and anyone considered educated. Additionally, ethnic minorities such as the Cham Muslims and Chinese were targeted. Cambodia would continue through political unrest and conflict until October 1991 when a peace settlement was reached. One of the terrible aftermaths of decades of war was that Cambodia is the third most land-mined country in the world according to UNICEF. I highly recommend reading the fascinating story of Mr. Aki Ra who has devoted his life to removing land-mines in Cambodia.
Challenges Today
As a result of the destruction of the Khmer Rouge infrastructure in Cambodia was left in ruins. With the added complexity of the Southeast Asian weather system which is dominated by monsoons some areas are completely inaccessible for months at a time. In fact, our partner the Trailblazer Foundation, who has set up a clean water project in the village of Sras in the Angkor Thom District cannot access the village September through December each year due to flooding. Clean water is essential to life and can be difficult and cumbersome to obtain for these rural villages. The Trailblazer Foundation helps by providing wells and Bio-Sand water filters. Give a visit to the Trailblazer site and welcome them to SeeYourImpact by providing clean water to a family.
Colombia
posted June 2, 2010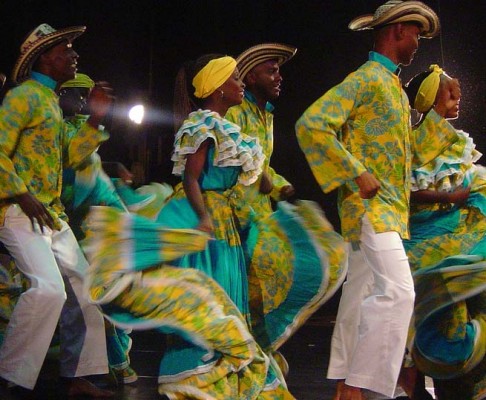 Colombia!
We recently had the privilege of partnering with Fundacion Carla Cristina out of Colombia. Having a new partner in South America is exciting for SeeYourImpact but also has special meaning to me. As a youth I had the opportunity to travel in South America. Though I never made it to Colombia I always loved the vibrancy and culture of the continent. Coming from the Northeastern United States it always seemed that South Americans got such enjoyment out of life. The dancing, the colors, and the beautiful sound of Spanish made me vow to return. I hope that I'll soon get my chance!
A brief background
Because I can't make it to Colombia just yet I thought it'd be neat to share a little bit about the country and also the work of our new partner. Much of what I've heard about Colombia has come from television reports. I had no idea for instance that Colombia has two of the oldest political parties in the Americas or that the country was once named the United States of Colombia. What I had heard about was Colombia's problems was that it had the South American continent's longest standing armed conflict. Although the conflict persists it is not all there is to Colombia and there are bright spots as Colombia's homicide rate has halved since 2002.  The armed conflict has taken it's toll, however, and is felt by civilians to this day. In an opinion survey conducted in 2009, 31% of Colombians reported that they had been directly affected by the conflict.
Back to School Memories and Fundación Carla Cristina
Our partner Fundación Carla Cristina has not let any reports or opinion stop them. Their goal is very simple using education as a fundamental strategy they contribute to the integral development of preschool aged children in the unprotected communities of Medellín, Colombia. It's a strategy that I can really get behind, what better path is there to a brighter future than education? Fundación Carla Cristina provides back to school kits with a brand new backpack, complete with notebooks, paper blocks, pencils, watercolors, brushes, crayons, and a toothbrush. Is there a cooler way to inspire a student than by providing back to school materials? I'm sure all of us have memories of getting our back to school clothes and notebooks. It's something that's ingrained in my mind. I encourage you to check it out for yourself. Why not provide a child with a memory and an education that will last a lifetime?
Do you any back to school memories that have always stuck with you?