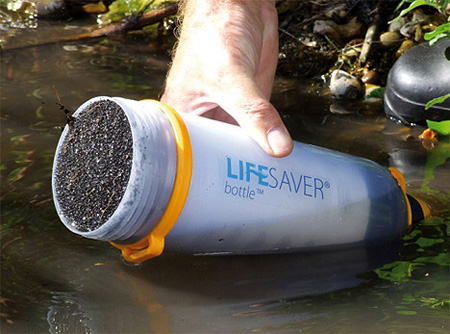 Again much like my last post, The $1 Spectacle, this is not breaking news, it's just a great idea that will hopefully have a huge impact.
LifeSaver Conception:
December 26th, 2004 Michal Pritchard sat in a daze as he watched the fallout from the Asian Tsunami. Villagers scattered across their broken towns, scrabbling to rebuild shelters, find food and find potable water. Many went days to weeks without reliable sources of water, to Prichard this did not make sense, it should have been easy to airdrop water or even better portable water filters, and create a stop gap for those people in need, the technology existed. But, he chalked it up to the regions low wealth, perhaps in a first world country access to water would be returned quickly. A few months later hurricane Katrina hit, and access to water was lost. Pritchard then watched in horror as men fought in the streets over water, gun battles erupting, men died, over what most take for granted a basic right. It took five days for authorities to bring water into the disaster zone. That is when Pritchard decided to take action, he retired to his garage where he invented the LifeSaver bottle.
LifeSaver Design:
The LifeSaver bottle is similar to other commercially viable water filters, such as the Life Straw or Bio sand filter, but the LifeSaver takes water filtration one step further. Most available filters are able to filter out particulates and bacteria. This is accomplished using activated charcoal and membranes that typically have 200nm pores, however this means everything less than 200nm can get through. Most viruses are 25-15nm, which means they can get through the 200nm pores found in numerous water filters. However the specially designed membrane system in the LifeSaver has pores of only 15nm, which prevents nearly everything but water from getting through. This allows for truly clean water.
TEDGlobal2009: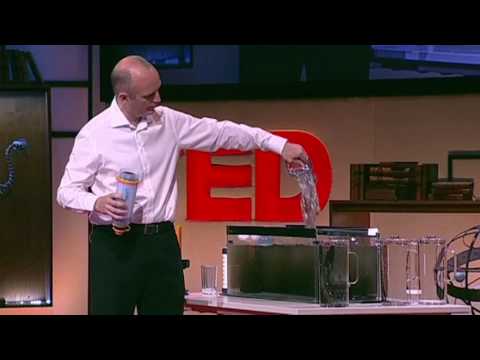 During the TEDGlobal 2009 conference Pritchard gave a live demonstration of his invention (minute 3:30). He walks over to a fish tank full of crystal clear water. Then proceeds to pour in muck from the River Thames, then muck from his friends pond, then feces from his friends dog. After his concoction is complete, he takes a pitcher full of the sludge and puts it in the LifeSaver bottle, pumps vigorously then opens the nozzle and squeezes the bottle. A stream of crystal clear water flows from the LifeSaver into a waiting glass. To the audience's delighted applause he daintily sips from the cup, commenting on the clarity of taste.
Strengths:
The success of the LifeSaver bottle will come down to its practicality. The real measure of that being the cost of each unit in the real world. Currently if you wanted to purchase a LifeSaver for camping it runs about $180, which is about double the price Pritchard aims to sell them for in the developing world. 90$ might seem like a lot for a water filter, especially considering continued upkeep costs. However, the LifeSaver is actually cheaper than most portable alternatives in the long run, each bottle contains a filter that has a life of 4,000-6,000 liters (1,050 – 1,585 gallons), which puts the price per liter at about 1-2 cents, further replacement filters cost about $20, which means after the first 6,000 liters each liter costs less than a cent. Further, the new LifeSaver Jerrycan is able to filter 10,000 – 15,000 liters of water for less than one cent a liter. However the true strength is not the cost but rather the effectiveness in a disaster zone, where refugee camps can be populated by tens of thousands of people, disease can spread rapidly, but with the help of the LifeSaver a camp of 25,000 can be provided with clean sterile water.
Weaknesses:
The LifeSaver seeks to do one thing, and it does it exceptionally well, it provides sterile drinking water at an affordable price. It is well suited for disaster zones and areas where there is an abundance of non-potable water. However, many places where people do not having access to clean water also don't have access to water. For instance, throughout Africa and Asia it is a lack of infrastructure rather than technology that prevents people from acquiring clean water. But, there are many ways you can help, for instance Trailblazer builds wells for villages and provides water filtration units and LaoWater provides families and communities with cheap reliable water filters.
Impact:
Using Pritchard's filtering system 99.9% of viruses and bacteria are removed from even the most polluted water, providing any number of people safe sterile drinking water. In disaster recover situations, like those faced after the hurricane Katrina disaster, people fleeing from their homes tend to congregate and the spread of disease can be terrible. Especially when water is concerned, for typical use water does not have to be cleansed of viruses, but when thousands of people are living, coughing and sneezing in a confined proximity water can become contaminated, and become a  virus spreading vector. The LifeSaver bottle eliminates this risk and aids in disaster recovery.

Read more »