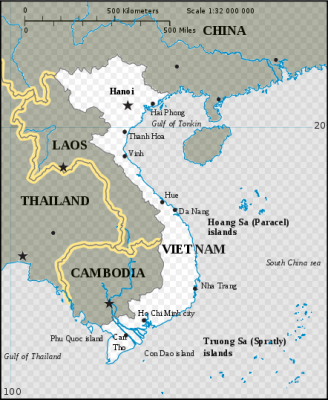 Vietnam Country Profile
Over the past 20 years Vietnam has risen from poverty to a success story of Southeast Asia. After being ravaged by war for decades the country has seen a huge rise in exports and tourism. Today Vietnam boasts a 5.3% real GDP growth rate.
Interesting Facts About Vietnam
Vietnam is the largest exporter of cashews and black pepper in the world (1/3 of the world's black pepper comes from Vietnam)
Verbal responses to compliments are considered impolite, the appropriate response is to smile or blush.
Nguyen is the most common surname in Vietnam. 
Scooters/Motobikes are a preferred method of travel, over 20 million are owned throughout the country.
Áo Dài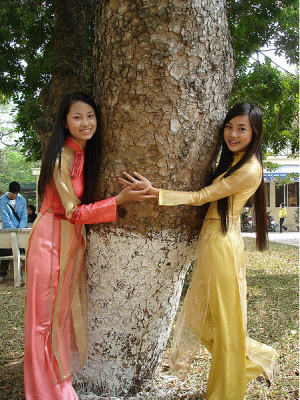 The Áo Dài is a traditional Vietnamese garment worn primarily by women. While unpopular during the late 1970′s the Áo Dài regained popularity in the 90′s and is now standard for weddings. A tight fitting tunic worn over pantaloons it is considered a national dress in Vietnam. The dress is so well known that the words "Áo Dài" appears in the English language dictionary, one of only a handful of Vietnamese words listed.
French Colonization
After nearly 1000 years of an independent Vietnam, the French assisted by Catholic collaborators seized control over the country. Roman Catholicism was promoted and the economy became entirely export. Calls from the Vietnamese for civil rights and self-government were largely ignored by the French. The seeds of an independence movement were sown in 1941 by Ho Chi Minh. After World War II, Ho Chi Minh's liberation movement succeeded in defeating the French at Dien Bien Phu. The French military withdrew and were slowly replaced by American forces.
Vietnam War (the American War)
The conflict between Vietnam is known as the Vietnam War in the United States and The American War to the Vietnamese. What began as a few advisors sent to South Vietnam in the 1950′s would end up costing both sides an incredible lose of life. Finally ending in 1975 the Vietnam War left Vietnam destroyed with millions of civilians and military members killed and wounded.
Our partner in Vietnam
We are proud to support our partner in Vietnam, Medrix. By providing textbooks and training to nurses Medrix is able to train future health care providers to make sure that everyone has access to quality healthcare. Please visit Medrix and welcome them as our a new partner at SeeYourImpact!

Read more »