Country Profile – Vietnam
posted July 9, 2010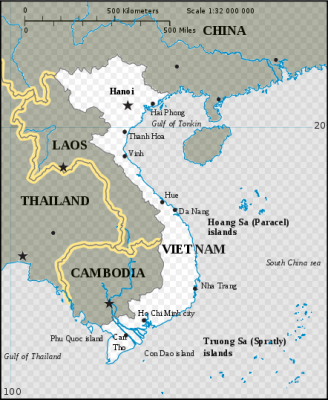 Vietnam Country Profile
Over the past 20 years Vietnam has risen from poverty to a success story of Southeast Asia. After being ravaged by war for decades the country has seen a huge rise in exports and tourism. Today Vietnam boasts a 5.3% real GDP growth rate.
Interesting Facts About Vietnam
Vietnam is the largest exporter of cashews and black pepper in the world (1/3 of the world's black pepper comes from Vietnam)
Verbal responses to compliments are considered impolite, the appropriate response is to smile or blush.
Nguyen is the most common surname in Vietnam. 
Scooters/Motobikes are a preferred method of travel, over 20 million are owned throughout the country.
Áo Dài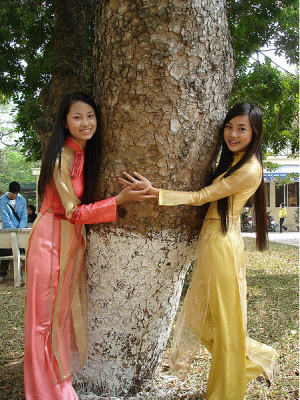 The Áo Dài is a traditional Vietnamese garment worn primarily by women. While unpopular during the late 1970′s the Áo Dài regained popularity in the 90′s and is now standard for weddings. A tight fitting tunic worn over pantaloons it is considered a national dress in Vietnam. The dress is so well known that the words "Áo Dài" appears in the English language dictionary, one of only a handful of Vietnamese words listed.
French Colonization
After nearly 1000 years of an independent Vietnam, the French assisted by Catholic collaborators seized control over the country. Roman Catholicism was promoted and the economy became entirely export. Calls from the Vietnamese for civil rights and self-government were largely ignored by the French. The seeds of an independence movement were sown in 1941 by Ho Chi Minh. After World War II, Ho Chi Minh's liberation movement succeeded in defeating the French at Dien Bien Phu. The French military withdrew and were slowly replaced by American forces.
Vietnam War (the American War)
The conflict between Vietnam is known as the Vietnam War in the United States and The American War to the Vietnamese. What began as a few advisors sent to South Vietnam in the 1950′s would end up costing both sides an incredible lose of life. Finally ending in 1975 the Vietnam War left Vietnam destroyed with millions of civilians and military members killed and wounded.
Our partner in Vietnam
We are proud to support our partner in Vietnam, Medrix. By providing textbooks and training to nurses Medrix is able to train future health care providers to make sure that everyone has access to quality healthcare. Please visit Medrix and welcome them as our a new partner at SeeYourImpact!
The Musahar and Shoshit Seva Sangh
posted July 1, 2010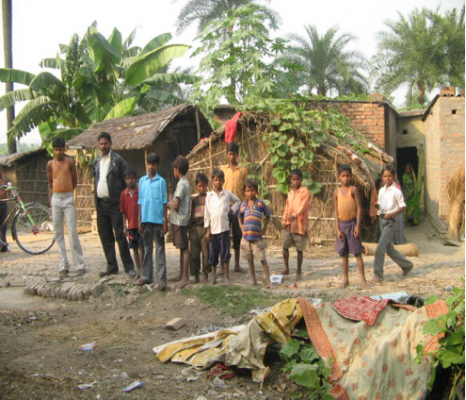 Navigating our front page you may notice that some of our gift options include the words "tuition" and "education". After spending time receiving impact stories and learning more about the communities they serve the word "tuition" takes on new meaning. To me, seeing the term "tuition" on a gift only scratches the surface. It's not just a gift of tuition, it's a gift of opportunity for a girl or a boy, a chance to break the cycle of poverty and change a life. Education is a broad topic and each of our partners play an essential role in the local community they serve. Every area that a SeeYourImpact partner operates in has a different set of challenges and needs that are as unique as the students that attend the schools. In the fight to end poverty, education can not be underestimated as an incredible tool that challenges adversity and breaks down barriers. I want to use today's post to turn the spotlight on a partner we have been working with that has been particularly inspiring to me.
Shoshit Seva Sangh, provides educational opportunities to a group called the Musahar.  A sub-group of the Dalit (traditionally known as the untouchables) the Musahar live predominantly in the Indian state of Bihar. Their name translates literally to "rat-eaters"(musa = rat, ahar = diet). Historically, the Musahar lived simply off resources from the forest but as forests were nationalized and an agricultural economy took over the Musahar found themselves working as bonded laborers for the landed class. In exchange for their work of clearing rats from the fields the landowners would allow them to take them home as food. For the landless food deprived Musahar the rats provide much needed protein. Despite the caste system being declared illegal in India the lives of the Musahar remain stuck in a vicious cycle of poverty. Our partner Shoshit Seva Sangh is breaking this system of poverty through education.
Shoshit Seva Sangh has established a school, Shoshit Samadhan Kendra, which is free and English language based. The school provides educational opportunities to the children of the Musaharie community. The $25 that pays for two weeks of school is not a simple gift that provides tuition rather it opens a door to a life of opportunity and meaning. The impact stories that we receive back from our partner in the field are simply inspiring. I strongly encourage you to look into only Shoshit Seva Sangh and our other educational partners. I think you'll be inspired by the stories of the students and may even look at the word tuition and watch it change into opportunity right before your eyes.
Has your life been changed by education? Tell us how in the comments below!
A Journey to Amar Jyoti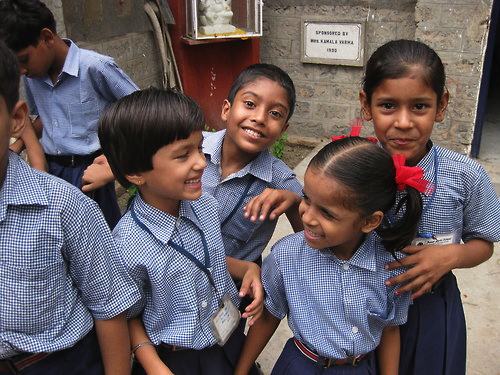 As I got out of the car, all I could hear was the roaring cheer of children running outside of the gates of Amar Jyoti School.  A school that was founded on creating an integrated learning environment for children from low-income backgrounds, as well as, children with disabilities.  As we looked amongst the children, who was poor or who was disabled was hard to distinguish.  All I could see were smiling faces and sparkling eyes beaming with hope.  Children having fun and sharing their laughter with one another.  I have spent a lot of time visiting schools in urban and rural india, going to villages across the country, seeing incredible examples of socio-economic change being made by various organizations, but very few compare to the work being done by Amar Jyoti.
As someone who worked with SeeYourImpact last year for 6 months, I had learned about the great work of Amar Jyoti and Dr. Uma Tuli-ji.  I heard numerous stories and saw several pictures taken by my fellow SYI colleagues on the amazing sights and sounds they experienced in their visit.  Although frankly, no pictures or stories can adequately describe the incredible impact Amar Jyoti has made in the lives of children and families.   It's only once you make the visit, does one really get it.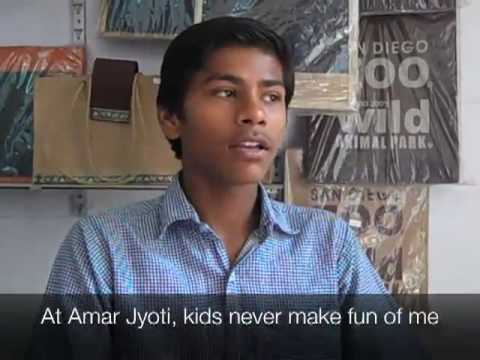 Amar Jyoti is not just a school, but rather, it is a holistic center that includes a school, vocational training, full-service hospital, a canteen that serves home-cooked food to the children, library, computer lab and other such facilities.  It provides students with the necessary support infrastructure to not only have a sound education, but also acquire vocational skills that will help make them immediately employable.  In particular, I was most impressed by the following three things:
1. The deep integration of students low-income backgrounds and disabilities.  The value of this integration helps to instill empathy and compassion in kids at a very early age thereby, providing the opportunity have a much more compassionate and accepting society in the long run.
2. Second, I absolutely was thrilled to see Amar Jyoti providing school education, as well as, vocational studies in an expanse of areas including:  computer / hardware repair, paper-bag making, embroidery / sewing, among others.  In India, 90M students graduate with unemployable skills; Amar Jyoti's focus on integrated education and vocational training helps provide a platform for sustainable development for children coming from underserved communities is what will help break the poverty trap that much of India still lives in.
3. Last, but certainly not least, Amar Jyoti has built a facility complete with the necessary medical infrastructure to take care of the children's healthcare needs, including limb replacements; for absolutely free of cost.  This facility is not only available to Amar Jyoti's students, but to any disabled child who comes to their facility across India in need of a new limb or medical attention.  Such complete care given with a generous, open heart is so heartwarming and just adds to the exceptional impact of Amar Jyoti.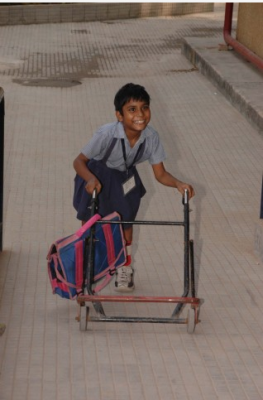 Amar Jyoti is an extraordinary organization and operates at a level above the majority of organizations I've come across in India.  The compassion and care for students to support them along their journey is truly unique and I am convinced that with such organizations in existence, India has the opportunity to provide a more inclusive society for all members of the community.
I'd like to sincerely thank Dr. Tuli-ji and Sundari for their gracious hospitality and for their generous time in giving us an in-depth tour of Amar Jyoti and for sharing with their wisdom, learnings and vision.  Amar Jyoti has really touched me and I can't express the gratitude and humility that resides in my heart after seeing Dr. Tuli-ji's vision in action.  As now a believer, I'd also like to thank the entire donor community that has supported Amar Jyoti throughout the years for giving a platform of hope and growth for underserved communities across India.
SeeYourImpact Country Profile: Cambodia
posted June 14, 2010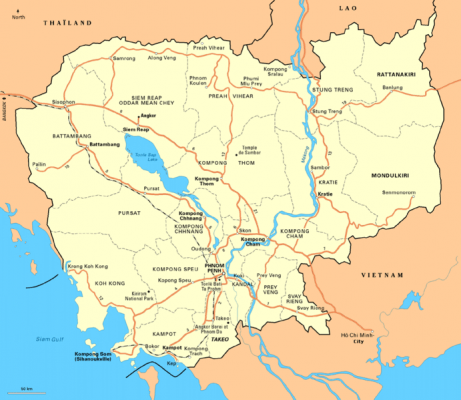 SeeYourImpact recently partnered with our first organization in Cambodia. We're very excited to have them on board and I wanted to share some information about the country to help better understand their rich cultural history.
Cambodia Today
Quick Facts:
Cambodia has a population of just under 15 million. The majority (95%) of the population is Buddhist but also includes Muslim Cham, Ethnic Chinese, Vietnamese and a small tribal animist population.
An aftermath of the civil war, 50% of the population is under the age of 22.
36% of Cambodians live below the poverty line. 20% live below the food poverty line, of those 90% live in rural areas.
The majority of the labor force works in agriculture coming in at a total of 59% of the population.
Cambodia's political structure is a multi-party democracy under a constitutional monarchy. The King appoints the Prime Minister under the advice and approval of the National Assembly.
Angkor Wat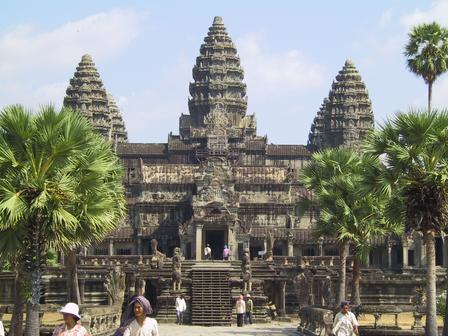 Angkor Wat is a major tourist destination for visitors to Cambodia. By government estimates 50% of visitors to Cambodia traveled to the Siem Reap province to visit the temple. Originally built as a Hindu temple by King Suryavarman II in the 12th Century the temple was changed to a Buddhist Temple by Emperor Srindravarman in the late 13th Century. Angkor Wat is a World Heritage Site. Interestingly, the first Westerners to visit the temple did not believe that the Khmers could have built the temple and instead mistakenly dated it to the same era as Rome.
Khmer Rouge
Cambodia's history is not complete without discussing the Khmer Rouger. An excellent resource from a first hand perspective is the book First They Killed My Father: A Daughter of Cambodia Remembers. The Khmer Rouge led by Pol Pot took power in Phnom Penh in 1975 and attempted to model Cambodia off an 11th century agricultural society. One million Cambodians out of a total population of 8 million died by execution, overwork, starvation and disease. The Khmer Rouge targeted doctors, lawyers, teachers and anyone considered educated. Additionally, ethnic minorities such as the Cham Muslims and Chinese were targeted. Cambodia would continue through political unrest and conflict until October 1991 when a peace settlement was reached. One of the terrible aftermaths of decades of war was that Cambodia is the third most land-mined country in the world according to UNICEF. I highly recommend reading the fascinating story of Mr. Aki Ra who has devoted his life to removing land-mines in Cambodia.
Challenges Today
As a result of the destruction of the Khmer Rouge infrastructure in Cambodia was left in ruins. With the added complexity of the Southeast Asian weather system which is dominated by monsoons some areas are completely inaccessible for months at a time. In fact, our partner the Trailblazer Foundation, who has set up a clean water project in the village of Sras in the Angkor Thom District cannot access the village September through December each year due to flooding. Clean water is essential to life and can be difficult and cumbersome to obtain for these rural villages. The Trailblazer Foundation helps by providing wells and Bio-Sand water filters. Give a visit to the Trailblazer site and welcome them to SeeYourImpact by providing clean water to a family.
Jagannath with his wife Dappu Bai
posted June 14, 2010 by
Casey
Dappu Bai and her husband Jagannath live in Munj Ka Pura a remote village in Rajasthan. Jagannth is a Priest. He visits neighboring villages on his bicycle to perform prayer ceremonies during festivals.
In order to complete nightly prayers, Dappu and Jagannath used an oil lamp, which costs $3 a month to run. As their total income is about $12 to $15 a month, they are happy to have received a light, which not only illuminates much better but saves a significant portion of their income. They say thank you to Susan who donated the Solar Lantern and they are praying for her prosperity and good health.
Learn more about giving  solar energy to a family in need! click here
Clean Water for a Family
posted May 28, 2010 by
Casey
Ashley, your donation has made such a difference in the lives of Beng and his family members.  This water filter will provide clean water to Beng, his wife, his three children and a niece and her family.  Now they will no longer suffer from dysentery and will be able to lead normal lives.  Beng's son looks forward to being able to continue his education at a nearby middle school where he will ride the family bike 10 miles and no longer suffer from weekly bouts of illness.  Thank you for your kindness.
Provide another family a reliable source of clean drinking water through the Trailblazer Foundation.
LifeWater Ceramic Filters
posted May 21, 2010
It's amazing how a simple technology can save a life. In the United States we're lucky that getting water is as easy as turning on a faucet. Sometimes for populations of developing countries the infrastructure simply does not exist to provide this essential resource.  Providing access to this resource is one of our core causes at SeeYourImpact. We actively seek to identify and partner with groups working in this area and it's always exciting when we partner with a like minded group creating change in communities. Recently, we had the privilege of being introduced to a group working out of Laos called LaoWater Resources (LWR). After talking I decided to dig a little deeper into Laotian history and was literally stunned.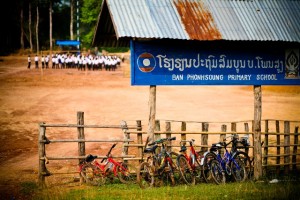 Lao Today and Lao's History
A total of 44% of the population in Laos live below the poverty line of $1.25 a day. For nearly 30 years, from 1944-1975 Laos was ravaged by war as first the Japanese, then the French and finally the United States fought with the Communist Independence Movement. Tragically to this day Laos holds the distinction of being the most bombed country in the world. In fact there are an estimated 80 million bombs that did not detonate spread throughout Laos today. With only a small amount of arable land many farmers turn to selling the bombs for scrap metal, a dangerous situation. With barely enough money to even put food on the table many families struggle with access to clean water. Our partner LaoWater Resources encountered this lack of access to clean water firsthand. But by using local resources and a sustainable solution they have found they can create a postitive change. LaoWater Resources helps by providing ceramic water filters to communities in Laos. I personally get excited when learning about the technology behind our partners and wanted to share how ceramic filters work.
How Ceramic Filters Work
The technology behind a ceramic filter is fairly simple. Ceramic allows only molecules the size of water or smaller to pass through to the other side effectively removing many contaminants. Additionally filters are treated with silver to to kill bacteria and prevent the growth of mold and algae. Putting it altogether results in a cool mechanism.The picture on the right shows water being poured into a filter with a spigot for dispensing on the bottom.
The simple device on the right has the ability to provide water for years. I encourage you to visit the Laowater Resources Site and provide a sustainable source of water for a family.
What innovative ways have you seen technology used to change lives?
Changing attitudes, changing lives
posted April 7, 2010 by
Megan
After great visits to the Blind People's Association in Ahmedabad, and Padma Industrial School in Tamil Nadu, I recently visited another SeeYourImpact partner charity, Amar Jyoti, based in Delhi.
SeeYourImpact is a charity network that cost-effectively enables donors to give small, life changing lifts to people in need through carefully vetted charitable organizations and directly see the impact of their donations.
Our partner charities that support education are about far more than classes and homework. Sponsoring the tuition of a child often means providing them lodging, meals, uniforms, vocational training and medical care. When you support a student at Amar Jyoti school, you also support an integrated educational environment (50% of their students are mentally or physically handicapped) that teaches equality and respect for all its students.
Spread the word
posted March 15, 2010 by
Megan
Notes from the Field, January 2010
In January I visited the Blind People's Association (BPA), a See Your Impact partner organization located in the Indian state of Gujarat. The most rewarding part of my visit was meeting Gaguben and seeing the impact BPA had on her life. Gaguben is just one success story, but there are countless people whose lives have been transformed by the good work of dedicated, transparent NGOs in the field. However, a vital component of her story is missing: how did Gaguben find out about the free cataract surgeries offered by BPA? Providing services is just the first step for many organizations whose target populations live in rural areas. Connecting people in need to the services being provided is a major obstacle for some of our partners. Not all children go to school, not all adults work regular jobs, not all families have access to transportation. If you want to help as many people as possible, how do you reach them?
Opportunity
posted February 23, 2010 by
Megan
Notes from the field: November 2009
To take advantage of opportunity is a privilege. I learned this first-hand when I visited Manjakuddi village in Tamil Nadu, home of the Padma Industrial School. Most of the local people make their living as "farmer coolies" or agricultural laborers. The work is inconsistent and the pay is low. Everyone in the family who can work does work. The AIM for Seva school that forms the cornerstone of Manjakuddi village sees a high drop out-of rate amongst young men, who leave school to pursue employment. Secondary education is a privilege they simply cannot afford.