Kate
$10 from 1 donor
$430 goal
Join me and help write a child's success story!
In 2005, after a somewhat rough first few years of college, I left Maine and spent a summer in beautiful Rhinebeck, NY; working as performing arts counselor for children with social, emotional, and learning challenges. It was the hardest job I've had, and the most rewarding. I had the honor to work with the girls in my own bunk as well as ALL of the campers in the performing arts room. In particular I'll never forget one little boy who went from yelling and kicking during music time to performing in the talent show with his peers… I think I learned more from those children than they did from me.
Ramapo has an amazing program model. They provide a one-to-one staff-to-camper ratio, helping each child build healthy relationships and learn essential life skills. The camp's inclusive environment fosters positive personal growth- in the campers as well as the counselors.
Camp Ramapo confirmed my wish to work in the arts with children with special needs. I was inspired by the training I received and the experience with the kids, and went on to graduate school and became a music therapist. Kids got off the bus hurting and silent and at the end of their camp experience, got on the bus singing along with the counselors and hugging everyone. Ramapo helped align my personal aspirations with skills training that to this day, still guides my career.
I am hoping that you will help give a child a summer at Camp Ramapo. Your tax deductible donation can be made right here online. You can also check with your employer to see if they match donations. My goal is to raise $430 to provide 2 days of camp for a child in need. Please join me by donating $25 or more to give a child an amazing summer at Camp Ramapo.
Read stories of real lives changed
Casey's Favorite Day at Camp Ramapo
Jeffrey Experiences Success within a Group
Gelisa Learns How to Swim
Jayden Finds Trust in His Counselor
All children dream of success. Ramapo helps them align their behaviors with their aspirations.
Through direct service youth programs and highly regarded training programs for adults, Ramapo for Children works on behalf of children who face obstacles to learning, enabling them to succeed in the classroom, at home, and in life.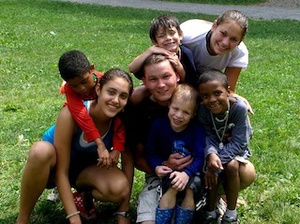 At the heart of our work is the conviction that all children seek the same things: to learn, to be liked, feel valued, and experience success. Ramapo helps young people learn to align their behaviors with their aspirations.
To learn more about Ramapo for Children and the network of programs and services we offer, please visit our website at www.ramapoforchildren.org.
Tell Kate why you this cause!