Janet
$1,445 from 18 donors
$1,000 goal met!
Donate a buck, save a life!
Hi Friends!!
Help me reach my goal of raising $1,000 to help buy malaria medication before the heavy rainy season hits in Burma (bringing clouds of anopheles mosquitoes…). My organization, Community Partners International, provides technical support, training and funding to our amazing local partners, who go to villages and towns with little to no health care and make sure moms-to-be have safe births, kids have immunizations and dads have treatment for infectious diseases. (Our partners do a LOT more cool stuff to improve health in Burma: check it out at www.cpintl.org).
What do I want a thousand bucks for? Our Malaria Control Program trains and equips community health workers to screen for, diagnose, and treat malaria in remote areas of eastern Burma, where 2 out of every 5 deaths is caused by the disease.
The work of our partner health organizations is not only saving lives, but helping contain the spread of anti-malarial drug resistance (a serious public health emergency: drug resistance already spread once from Burma to Africa, causing a world of misery). If our partners weren't providing high-quality drugs, villagers would be more likely to get only a partial course of treatment or be exposed to counterfeit anti-malarials (which are rife in Burma), or simply go untreated.
Unfortunately, one of our partners' biggest challenges has been access to affordable, good quality medicines. Luckily, through various public-private partnerships, our partners have the opportunity to buy good quality ACTs that are affordable right now — and they urgently need the supplies.
This is where you can really help! A dollar pays for a course of treatment for one adult. I'm hoping to raise $1,000 with your support — that would mean treatment for 1,000 patients!
Pitch in a buck, or twenty or whatever you can. It would mean a lot to me! I've been writing about, working for and supporting CPI since it got started 15 years ago. I'm really proud to be part of this organization, and our approach to improving health through strengthening local partners and training community health workers.
Thanks so much, and Cheers to good health!!
Janet
Read stories of real lives changed
Saving a daughter's life
Tun completely recovered
"Malaria Free Zone"
About Community Partners International
Community Partners International (CPI) works with local partners to improve health and education, led by and for the people of Burma / Myanmar.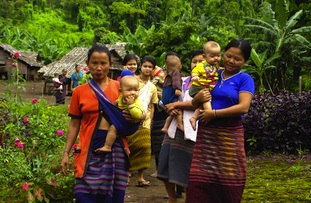 For 15 years CPI has provided evidence-based public health training, mentoring and technical resources to local organizations in remote, conflict-affected and underserved communities so they can design, manage and monitor their own high quality health programs. For more information on Community Partners International click here.
Tell Janet why you this cause!