Reflecting on you: our community
When we reflect on where we are and where we're headed, what stands out to us most is you: a powerful community of supporters dedicated to changing the world, one life at a time.
Thanks to you, these lives will never be the same.
One of the best parts of visiting SeeYourImpact.org is seeing the Impact Stories – the new stories you make possible every day with each small gift. Find out how and where our community helped people in 2010:
Customize your personal Impact Page
To help you track the change you're making possible, a few months ago, we launched personal impact pages.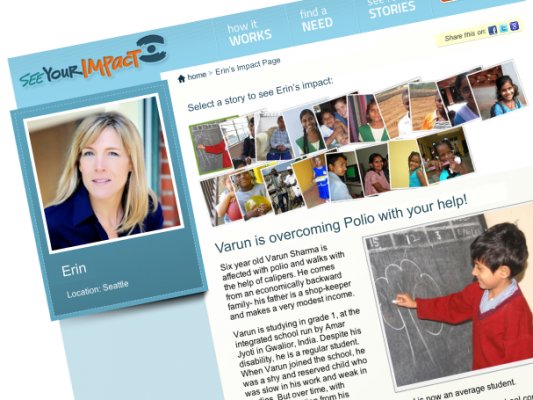 If you don't have your Impact Page yet, take a moment to get yours started. We gather all of the stories and photos of the lives you're helping, and put them in one place.
It's easy to build out your Impact Page. Just log in with the email address you use to donate.
Then, share your impact with friends and family on Facebook and Twitter. It's because of you spreading the word that we are able to get more help to more people, every day.
Dedicate your events to saving lives
If you're a runner, a birthday-er (who needs more stuff anyway?), getting married, or you're simply motivated to do something that has real impact, Campaigns give you a way to dedicate your passion to helping people. You'll literally see your impact on lives around the world.
Email us at Contact@SeeYourImpact.org, and we'll set a campaign up for you.
In the months to come, we're making it easier, more interactive, and just plain more fun to impact lives in unforgettable ways.
You're going to love it.
It's your generosity that is turning SeeYourImpact.org into a movement of people addicted to changing lives around the world and next door.
Have an idea for what we can do better this year? Let us know!
Helping Kids See Their Impact
"Mamma, do you know pandas are dying?" said my pre-schooler as I was watering the plants. "Oh really? Why's that?" I had no idea where this was going, so trod carefully.
"They are dying because they don't have any bamboo to eat," he said. "Idea! Let's send all your bamboo plants to China. Then the pandas wouldn't have to die."
"I'm not sure that's a good idea," I replied, putting myself between him and my bamboo plants. "The plants will dry up before they reach China, and the panda wouldn't be able to eat them. I have a better idea. Why don't we send some money to people in China so they can buy fresh bamboo shoots for the pandas?"
He considered the suggestion for a moment, before piping up. "But, are you sure those people will use the money to buy bamboo for the pandas?"
Children are born skeptics. Esoteric transactions involving pieces of plastic do not satisfy them: they want to know if the result they intended was achieved or not. My five-year old would not have been satisfied until he saw a photograph (or better, a YouTube video) showing a panda munching a piece of bamboo sporting a gift tag with his name on it. He wants to see his impact. And what better way to get them addicted to giving than SeeYourImpact?
Both my kids are naturally generous. My seven year old  has often given unopened bars of his favorite chocolate to kids who seem hungry (that he then forces his younger bother to share his chocolate is a different thing altogether), but I have always wanted to wean him away from sporadic acts of charity and into more meaningful and long term donations.
One of our newest partners provided me with the perfect opening.
"Hey, do you know that if we don't order Dominos Pizzas this weekend, with the money we save, we can give one hungry kid tasty food for three months?" I said.
His eyes lit up. "Really?!"
"Yes really!" I pulled up on my laptop screen the awesome new gifts we've just listed.
"Provide three months of healthy meals to the child of a migrant laborer", he read, then looked up with shining eyes. "Can we really do that?"
"Sure you can. And two weeks later, you will also get a photograph of the child and know all about him."
"Cool. Can he be my friend then?"
We made the donation, and my kids circled the date on the calendar so they would know when to expect the impact story.
This is a real peep into my own household. Part of what drives my work with SeeYourImpact.org is watching how it helps my kids. Like many parents, I'm looking for ways to teach my children to think beyond themselves and their immediate wants and needs. It is not always easy. But SeeYourImpact makes it relatively easier by listing gifts that children can relate to, and which they would want to share with other children less fortunate than them. It is just a question of helping our kids find the gift that fits their own particular interests or concerns.
If you're looking to donate with children, here are a few child-friendly gifts: backpacks for children in Colombia, soccer camps for disadvantaged kids in Seattle or a chance to see the doctor for children in Kenya.
There are so many possibilities. Helping your child make an impact will empower them and the person they help.
Twelve days after we made the donation, we got back an impact story. The older one proudly read the story out to his younger brother, then asked if he could take a print-out to school to show his classmates.
Maybe it is time to set up a campaign page for them.