From a Construction Site to the Courtroom
Ten years back, nine-year old Gowri was the illiterate daughter of construction workers who had migrated to Mumbai to escape starvation in their native villages. The third of five daughters, she spent her day on the construction site minding her younger siblings while her father broke stones and her mother and older sister hauled the rubble to the site on baskets carried over their head. She knew that in a couple of years when she was strong enough to bear the burden, she would join the older women, and would continue working as long as she was able. Her parents often spoke of returning to their village 'when times got better', but Gowri knew that the day would never come- when landless peasants migrated to the city, they left their roots forever. All Gowri hoped for was that her family would find permanent employment for a construction season, instead of having to hire out their services as daily wage earners.
When a local charity started conducting basis literacy classes for children at the construction site itself, her parents were initially reluctant to let Gowri and her younger siblings go. 'What did a girl need education for?', was their query, 'hadn't they survived for centuries without it?' They relented only when the social worker told them that the classes would be conducted in a safer part of the construction site and that they would take responsibility for the safety of the children during 'school time'. Gowri had no idea what to expect from school, but she loved having her own piece of chalk with which she could mark lines on the blackboard. In a few months, she became functionally literate, and in a few years, she became the first in her family to enter secondary school.
After graduating from high school, Gowri took up a job with the charity that gave her a new direction in life. As a teacher, she conducts literacy classes for two groups of 40 children everyday. She is thrilled that she has the opportunity to mold young minds, as her teachers had molded her's.
Her job lets her brings in a steady income- an income that has enabled her to move her entire family into a house more solid than the shack she grew up in. Her youngest sister is a brilliant student and dreams of becoming a doctor and starting a practice in the community. Gowri is saving up to ensure that her sister is able to pay her way through medical school.
But that is not enough for Gowri. She is enrolled in a night college, pursuing an undergraduate degree in Economics and Commerce. She dreams of becoming a lawyer and ensuring justice for people who cannot otherwise afford it.
Gowri and her younger sister would have been two more of the faceless thousands who live on the streets of Mumbai. Living at the poverty line, they would have been content with staying one step ahead of hunger and starvation. Instead, they aspire to become lawyers and doctors, and to help pull their entire community out of poverty.
It doesn't cost much to change a life. All it took was a donation of $ 30 to send Gowri to school for a year. SeeYourImpact partner, Pratham, is conducting Urban Learning Programs to deliver basic education to children like Gowri. How many Starbucks coffees is that?
Pakistan Relief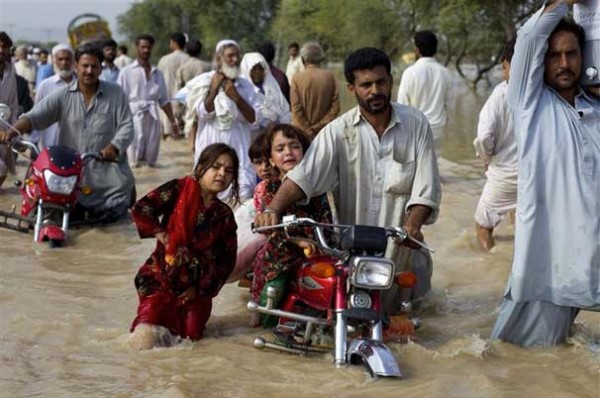 Just over a month ago, unusually heavy monsoon rains resulted in flash flooding and massive landslides in northwestern Pakistan and Kashmir. The initial flooding and landslides have killed at least 1,600 people and displaced over 20,000,000. That is more people without homes and access to food and water than live in the state of New York.
The situation has become more dire as the flow of aid into Pakistan is only a trickle. After the devastation hit, the U.N. immediately called for $500 million in ten days. This funding would cover only the first 90 days of relief efforts, with more needed for long-term rebuilding. But not even half of it has been pledged. In contrast, a similar appeal after the earthquake in Haiti resulted in over $600 million in immediate disaster relief.
Many journalists have tried to dissect why funding to help these vulnerable children and families is so slow. The good news is, there are many incredible organizations on the ground who can respond with our help.
Who is helping:
SeeYourImpact does not have a Pakistan branch, but that doesn't mean you can't make an impact on the lives of those in need.
Mercy Corps is helping those in Swat Valley, where flood waters and mud slides have been some of the worst in all of Pakistan. Each donation is spent to provide food, water and tools to help residents survive and rebuild. You can donate through the Mercy Corps website.
The American Red Cross, in conjunction with the International Committee of the Red Cross and the International Federation of Red Cross and Red Crescent network, has emergency aid workers in Pakistan and more on the way. Donations help provide food, water, and medical treatment to those who need it most. So far the Red Cross has helped over 250,000 Pakistanis so far. You can help fund their mobile care centers and aid workers by donating online at the American Red Cross website or over the phone by dialing 1-800-RED CROSS (1-800-435-7669).
AmeriCares emergency relief experts are focusing on sending medical assistance along with necessities to the affected region in Pakistan. They are accepting online donations as well as phone donations at 1-800-486-HELP (4357)
World Vision is distributing food and clean water to those affected in Pakistan. You can support the World Vision's Flood Relief Fund, which provides emergency aid to flood affected regions, by making an online donation.
Concern Worldwide just launched a Pakistan Emergency Flood Appeal and is seeking donations so they can provide 9,000 families with kitchen sets, hygiene kits, clean water, temporary sanitation, and dry rations of food. Online donations can be made through their website.
Other groups that are making a difference right now are: Direct Relief International, CARE, Catholic Relief Services, Church World Service, Doctor's Without Borders, International Rescue Committee, Islamic Relief USA, Operation Blessing International, Save the Children, ShelterBox, SOS Children's Villages, UNICEF, UN Refugee Agency, and World Food Programme any of which could desperately use any help you can provide.
Join the SeeYourImpact team and lend your support to these incredible organizations. Let's stand by the the vulnerable and displaced in Pakistan. They need our help today.