3 Reasons to Support Girls Education Today
posted August 6, 2010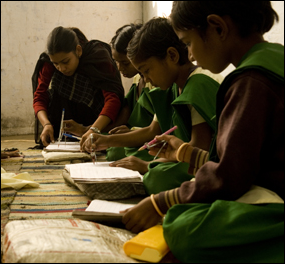 The impact of providing girls with quality education is simply staggering. Providing opportunities for women to learn changes those who received the education and transforms their communities. At SeeYourImpact, we are passionate about providing opportunities for girls education all over the world. It matters so much to me personally, that I want to share 3 reasons why I think you should not only support girls education but why you should do it TODAY.
1. Return on Investment (ROI) – Of course, I could start by citing the incredible economic results of empowering a girl with an education: Every 10% increase in female literacy, increases a country's GDP by .3%. And educated women participate more in civic life, and are more productive over their lifetime. Further, investing in a girls education delivers health benefits both immediately and to future generations. You're not just investing in one girl, you're investing in the future of a community.
2. The need is real – Around the world girls are held back from education by economic and social barriers. Gifts to girls school uniforms and school tuition fees can help ease the economic pressure of girls going to school by providing teachers, facilities and materials free of cost to girls seeking an education. But it is not just about subsidizing girls education, it's about changing perceptions and breaking the social barriers that many communities have towards girls education.
3. Because you can make a difference – There are quality organizations that SeeYourImpact has partnered with that are doing incredible work in the field. Pardada Pardadi and Little Drops Orphanage are two such organizations. The money that you provide goes directly to supporting the education of a girl or can help provide her with a uniform, your choice. Best of all, you can actually see the impact of your gift on a real person.
If you haven't already done so, I encourage you to read "Half the Sky" by Nicholas Kristof and Sheryl Wuduun. Also, check out Nike's Girl Effect. Two other cool organizations I've recently come across are She's The First and the Rwanda Girls Initiative : two group that are doing amazing things for Girls Education.
Why will you support Girls Education Today? Let us know in the comments below!