FIFA's World Cup Legacy
posted July 21, 2010
With the end of the World Cup the stadiums of South Africa have been silenced, the buzz of the vuvuzelas has (thankfully) faded and life has returned to normal.  But in Khayelitsha the legacy of the World Cup won't be measured by minutes played and goals scored. Success instead will be judged by lives saved. As part of FIFA's goal to create a lasting social legacy in South Africa, the first "Football for Hope Center" opened in Khayelitsha on Dec 5th, 2009.
The Khayelitsha soccer center is just one of 20 centers that FIFA is building across the African Continent. The plan is part of FIFA's "20 Centres for 2010″, an initiative to educate youth about HIV/AIDS through soccer. Used as a vehicle to education, soccer provides coaches/teachers the ability able to broach sensitive subjects. The soccer based curriculum has shown tremendous promise so far. Although FIFA's project will be physically complete after the construction of the 20 facilities the centers' real legacy will come years from now. As the students/players graduate from the centers they'll take with them an education that will last a lifetime. With each center constructed FIFA has the opportunity to impact thousands of lives by teaching youth to make smart decisions over a lifetime.
FIFA did not go about this all alone however. GrassRoots Soccer developed the curriculum used by the facilities. The program called Skillz uses training and drills to educate youth aged 12-18 by creating connections between real life skills and soccer.
FIFA's program is not complete yet.  Currently 7 more centers are under development and by the end of 2012 all 20 centers will be complete.
In my opinion I think that 20 Centers is just a start but I applaud the creation of a solution that is not only sustainable but will last far past the sound of the World Cup's last whistle.
What do you think of this innovative approach to youth AIDS/HIV education?
Good Reasons to Give
posted July 20, 2010
Philanthropy is not just something for the wealthy. It's possible for anyone to create change and it's not just about giving money. Everyone has skills that can allow them to "give back" in a number of ways, you don't have to be a graphic designer or lawyer doing pro bono work.
I think sometimes the term philanthropy scares some people off before they have the chance to see the incredible impact their actions and spare change can have. I wanted to take some time to respond to reasons I have heard the in the past for "why I can't donate or volunteer time". Focus on reasons I have heard about why people can't give or volunteer and share some responses to them.
#1 – "I can't afford it." – It's not just people with foundations who can support charity and you certainly don't need $100 or even $50 to create serious change. Giving a gift as little as $15 can positively change a life. As technology and communication have increased so has rapid deployment of funds and accountability of the organizations that they're headed to.
#2 – "I'm too busy!" or "I don't any have time to volunteer" – I have heard this one a lot throughout my career and it's one that deserves a response. In today's 24/7 world we're all busy, all the time. It doesn't mean however that we can't find just 15 minutes here or there to give back to effect change. While boots on the ground can have a huge impact so can volunteering in short bursts. Options abound! Whether it's translating stories or even spreading the word by e-mailing friends. Donating your Twitter status or Facebook status costs nothing and only takes a few minutes. You can also take a second to vote with the Pepsi Refresh Campaign. And you can start here if you're looking for some 15 minute options to volunteer?
#3 – "I don't know where my money goes" and/or "If I give money it will only go to overhead". Charitable organizations are required by the IRS to publicly disclose their annual return. There are a number of sites that help you determine where your dollar is going and even it's effectiveness. Try Charity Navigator, GuideStar, GiveWell, or Charity Watch.
#4 – "I haven't found a cause that really resonates with me." – Remember, it's not necessarily about a cause it's about the people the cause supports. If you're having problems finding a cause that resonates try not to get mixed up with what cause you're actually supporting instead concentrate on who you're helping.
Do these sound familiar? Let us know if you can help add responses to these questions!
From Garbage to Gold
Social Entrepreneurship and Garbage
How can you safely handle waste, produce fertile compost, provide employment to the poor, prevent crime, and even make some money, all at the same time? Zero Waste Management, a not-for-profit organization created by Vellore Srinivasan, has answered this question with its waste collection program, which runs in rural villages and urban cities across India.
We Are All The Future of Philanthropy
posted July 13, 2010
The Modern Foundation
The beginning of last century saw the creation of the first modern philanthropical foundations.  Although Benjamin Franklin had first introduced the concept it was people like Rockefeller and Carnegie who contributed millions of dollars to create the modern foundation that we know today.  Over the years foundations have contributed billions of dollars in an effort to make the world a better place. Today we're witnessing a shift in the philanthropical landscape. Katherine Fulton of the Monitor Group did an incredible TED talk describing this transition. Although the talk was over three years ago it's amazing to see how right she was and is. She discussed a few items that I think are critical in understanding how we are ALL the future of philanthropy.
The Democratization of Philanthropy
As donors and volunteers we have incredible power to create change and give back, philanthropy is not just money it's also about time and talent. Through Twitter and Facebook and other Social Media outlets we have the ability to launch fundraising campaigns, recruit volunteers, empower ourselves and others and create an incredible impact. It's not just philanthropical foundations that can create change it's all of us. An interesting current example is the owner of the Twitter handle BPGlobalPR. By simply sending out humorous tweets and selling T-shirts they have amassed over 180,000 followers and raised more than $20,000 for the Gulf.
The New Platforms of Philanthropy
Katherine Fulton's TED talk also discussed her thoughts on 5 new platforms of philanthropy.
1. Mass Collaboration – Wikipedia is a prime example of what happens when a large number of people donate their time, energy, talents and a little bit of money to create something.
2. Online Marketplace – What Katherine Fulton calls "Peer to Peer philanthropy"  goes directly against the assumption that  philanthropy is only for the wealthy.  Allows users the ability to go online to a marketplace and choose the amount, gift, and where they'd like to give.
3. Aggregated Giving – A few years ago Warren Buffett's large gift challenged the belief that every large donor should have their own fund or foundation. Large donors can choose existing funds that they'd like to give to.
4. Innovation Competitions – The XPrize has been the prime example of innovation competitions. A problem is presented and a prize offered for the best solution.
5. Social Investing – The ability for people to invest in companies and causes that provide a positive impact. A perfect example of this is Paul Herman's HIP (Human Impact + Profit) which choose companies that are good for the world and profitable.
Not all of these ideas will take off but as Katherine states is that the ones that do will be "Open, Big, Fast, Connected, [and] Long". The idea of what makes up philanthropy is being challenged by people all over the world. What's amazing is that we all have the opportunity to have a say. We are all part of the future of philanthropy.
Did we miss anything about the future of philanthropy?  Let us know in the comments!
Girls Education in Sierra Leone Africa
posted July 12, 2010 by
Casey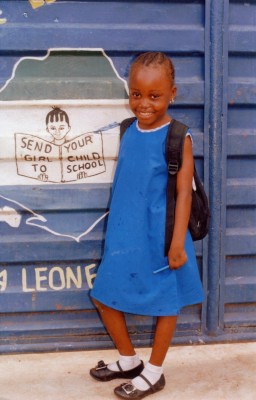 In Sierra Leone over 2.7 million children, or 48 percent of the country's entire population, live in poverty and few have the opportunity to obtain an education. Many families cannot afford to send more than one child to school, because of this families often opt to send their sons to school and not their daughters. Door of Hope works in Freetown, Sierra Leone providing top notch girls education in Africa.
Girls Education in India
posted July 9, 2010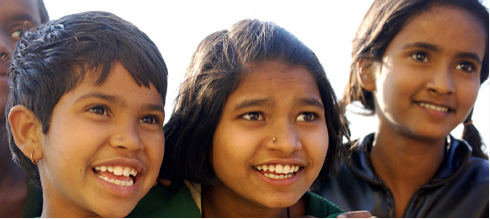 About a month ago we discussed The Importance of Girls Education and highlighted two of our partners doing work with girls education in India as well as Africa. The post discussed the merits of Girls Education highlighting why it's so essential to progress and lifting families out of poverty. The results really speak for themselves, lowered HIV/AIDS infection rates, lower child mortality rates, the list goes on and on. What I missed out on in that post are the barriers that prevent girls from receiving the education they so need and deserve. So what's preventing girls from attending schools?
1. Inadequate Facilities – Sometimes it's things that we don't even think of, like toilets that prevent girls from attending school. It's easier to stay home then face the embarrassment of not having a dedicated girls bathroom. Not having adequate sanitation facilities for girls can increase rates of absenteeism by 10-20%. Additionally, lack of proper facilities can leader to #2.
2. Absenteeism due to sickness – As UNICEF so aptly puts it "Safe water and adequate sanitation are as important to quality education as pencils, books and teachers." Without basic needs such as clean water, proper food and sanitation girls are unable to avoid illness and disease. Missing a day of school here or there is one thing but when disease removes you for a months at a time it's difficult to ever catch up.
3. Lack of Qualified Teachers – Learning can be difficult when teachers are absent (this can be helped by government inspection and the para-teacher concept). But for girls it's important to have teachers they can relate to and work with and studies have shown that girls perform better when learning from female teachers.
4. Fear of Sexual Harassment - Laws have been enacted in India to prevent "obscene gestures, remarks, songs or recitations" towards women. Despite having laws in place it does not mean that sexual harassment has stopped. Parents sometimes fear sending their children to school because of fear of sexual harassment on the walk there and back.
These four problems are ones that can be solved. SeeYourImpact partner Pardada Pardadi is doing it already with their incredible program. Consider providing a student with a uniform or empowering a girl through education.
What are our barriers to girls education that we missed? Let us know in the comments!
Country Profile – Vietnam
posted July 9, 2010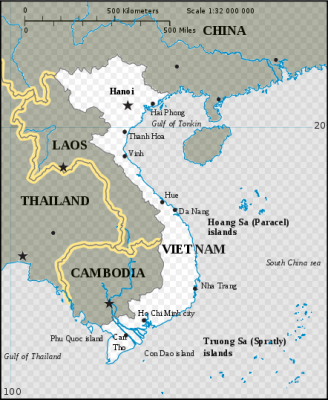 Vietnam Country Profile
Over the past 20 years Vietnam has risen from poverty to a success story of Southeast Asia. After being ravaged by war for decades the country has seen a huge rise in exports and tourism. Today Vietnam boasts a 5.3% real GDP growth rate.
Interesting Facts About Vietnam
Vietnam is the largest exporter of cashews and black pepper in the world (1/3 of the world's black pepper comes from Vietnam)
Verbal responses to compliments are considered impolite, the appropriate response is to smile or blush.
Nguyen is the most common surname in Vietnam. 
Scooters/Motobikes are a preferred method of travel, over 20 million are owned throughout the country.
Áo Dài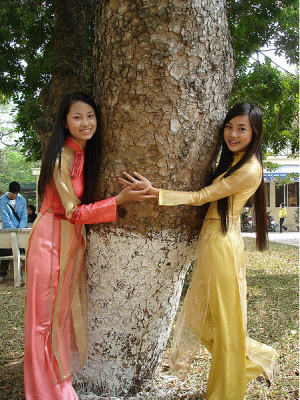 The Áo Dài is a traditional Vietnamese garment worn primarily by women. While unpopular during the late 1970′s the Áo Dài regained popularity in the 90′s and is now standard for weddings. A tight fitting tunic worn over pantaloons it is considered a national dress in Vietnam. The dress is so well known that the words "Áo Dài" appears in the English language dictionary, one of only a handful of Vietnamese words listed.
French Colonization
After nearly 1000 years of an independent Vietnam, the French assisted by Catholic collaborators seized control over the country. Roman Catholicism was promoted and the economy became entirely export. Calls from the Vietnamese for civil rights and self-government were largely ignored by the French. The seeds of an independence movement were sown in 1941 by Ho Chi Minh. After World War II, Ho Chi Minh's liberation movement succeeded in defeating the French at Dien Bien Phu. The French military withdrew and were slowly replaced by American forces.
Vietnam War (the American War)
The conflict between Vietnam is known as the Vietnam War in the United States and The American War to the Vietnamese. What began as a few advisors sent to South Vietnam in the 1950′s would end up costing both sides an incredible lose of life. Finally ending in 1975 the Vietnam War left Vietnam destroyed with millions of civilians and military members killed and wounded.
Our partner in Vietnam
We are proud to support our partner in Vietnam, Medrix. By providing textbooks and training to nurses Medrix is able to train future health care providers to make sure that everyone has access to quality healthcare. Please visit Medrix and welcome them as our a new partner at SeeYourImpact!
No More Missed School for Zainab
posted July 8, 2010 by
Casey
Zainab is a brilliant young girl from Sierra Leone who loves to go to and excels at school.   Her schooling has been affected negatively by insufficient sleep due to the buzzing, mosquitoes' bites and also bouts of the killer malaria disease.
Her parents are both school teachers and sometimes their salaries are not paid promptly by the government.  This has introduced an extra economic strain on the family and as a result Zainab has had to, unfortunately, cope and sleep without a mosquito net.  This has resulted in periodic bouts of malaria that have made her miss school for 1 – 2 weeks a few times a year.
Zainab was delighted to receive a net as this helps guarantee sleep and freedom from malaria.  Now she will no longer have to miss school from malaria.
Find out more about providing mosquito nets to children in Sierra Leone! Click Here
Top 11 Free Tools for your Non-Profit
posted July 7, 2010
Top 11 Free Tools for your Non-Profit
When I first started working in the non-profit world 5 years ago "hi-tech" referred to laptops and Blackberries. Computers were a hot commodity and we were lucky enough to have ours donated secondhand from a local company.  We were right in the midst of moving to a more paperless office and I was tasked with cleaning out a decade's worth of paperwork and contacts. It seems the last few years have seen an incredible growth in new Web 2.0 tools. I'd like to share some of the non-profit technology tools that I use on a daily basis in hopes that you find something that may save you time and money. The good news is that all of these tools are free!
1. Blogging – WordPress – One struggle that I always faced as a beginning non-profit employee was that we were all big on our cause but not necessarily the most savvy with Websites and HTML. I wish someone would've introduced me to WordPress sooner! The platform is simple to install and incredibly powerful. I think it's biggest strength however, is the ability to customize with themes and various plug-ins.
2. Calendar – Google Calendar – For some reason calendaring used to be a monstrous task. Making sure calendars were shared, public vs. private and available for editing and updating seemed nearly impossible. With Google Calendar you can share calendars within the office and even with outside volunteers.
3. Networking – LinkedIn – A great way to maintain contacts and connect with volunteers. Additionally, it raises the profile of your non-profit. Create a group and invite your volunteers to join. It's instant advertising on their profile page for everyone who stops by.
4. E-Mail – Google Mail (G-Mail) – For a lot of non-profits getting a Microsoft Exchange Server setup for Outlook can be time consuming and costly. Google Mail makes it easy to get it done quickly and free.
5. Time Tracking – RescueTime – Although there is a paid version of RescueTime there's also a free version that also works exceptionally well. Download RescueTime and let it run for a week. After that go through and properly adjust the categories (especially if you use Twitter and Facebook for Marketing/Communication). You'll be amazed at where you can identify areas to increase productivity and also identify what time of the day you're "in the zone".
6. Blog/Feed Reader – Google Reader - There are a ton of great non-profit blogs out there and Google Reader has been my preferred way of perusing them all. If you haven't start using Google Reader it's well worth the time you take to invest in it.
7. To-do/Task Lists - TeuxDeux – A simple, no frills to-do list. TeuxDeux is by far my favorite to-do list. After using Microsoft Outlook's list and Google Task list I've found that TeuxDeux has a way of keeping it short and simple.
8. Photo Editing – Picnik – Ever have a problem getting your picture just right for a blog post or newsletter? Picnik takes the pain out of photo editing, it's online and best of all it's completely free.
9. Note-taking - EverNote – While working on a project it's nice to have some place to store those random web sites, ideas, and pictures that you stumble across while working and researching. EverNote is a lifesaver in this regard.
10. Documents and Spreadsheets – Google Docs – After having been a Microsoft Word.Excel devotee for a decade and a half I only recently made the jump to Google Docs and Spreadsheets. It's lightweight, has only the features you need and best of all, it's free.
11. Presentation Tools – Prezi – The first time I saw a presentation using Prezi I knew my Powerpoint days were coming to a close. Instead of a slideshow Prezi swoops and zooms through a landscape of pictures, videos, and keywords. It turns presentations into a dynamic.
For a really huge list tools make sure to check out the post by Social Brite's Web 2.0 Productivity Tools.
Are there any free tools that you would add to this list? Let us know in the comments!
A Bike: Radical Solution to Poverty?
posted July 6, 2010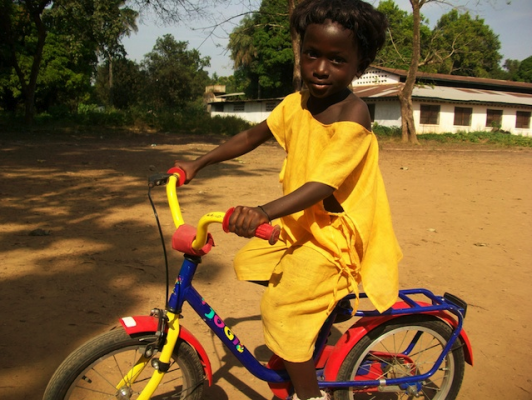 Can a bicycle change a life?
An incredible transformation takes place when you ride a bike.  The moment you start hurtling down the street you feel like a kid again. There's something about bicycling that's so freeing that it somehow removes our attachments and make us feel immediately younger. If you can't tell already, I love riding bikes. This means that I'm super excited to announce our first bicycle charity at SeeYourImpact. Named the Village Bicycle Project what they do is simple yet makes a huge impact on lives.
The Difference a Bicycle can make
For millions in Africa taking a bus or a car is not an option. To get from place to place it is necessary to travel by foot for miles. Take the story of Abel a boy in Zimbabwe who travels nine miles on foot everyday just for the opportunity to attend high school. The head of his household, Abel is responsible for caring for his younger siblings.  Abel's one wish in the world? A bicycle to get him home faster to help take care of his family. The Village Bicycle Project looks to make stories like that of Abel's history by providing bicycles, tools to repair them, and training for how to use the tools. Currently operating in Ghana, the Village Bicycle Project is furthered by the generous help of Peace Corps Volunteers who help distribute the bicycles to isolated rural villages. Owning a bicycle for recipients of the Village Bicycle Project is not simply a luxury like it is for many of us, including myself. It's a vital method of transportation that can save precious time and energy.
Impact that lasts
One of my favorite parts of SeeYourImpact partners' are that they provide an immediate impact you can see in the short term but are always thinking long term. The Village Bicycle Project is great example of this kind of sustainability. Bicycles are not just dropped off. Instead, recipients are trained and provided with the tools and the know how to keep their new rides running smooth. It's a great way of knowing that the gift of a bicycle you provide is a solid investment in someone's future. Another part of the gift that lasts forever is learning how to ride the bike. It's a skill and a memory that will last longer than any bike ever will.
Can you remember who taught you how to ride a bike? Share your bicycling memories in the comments below!