Gross National Happiness
posted June 23, 2010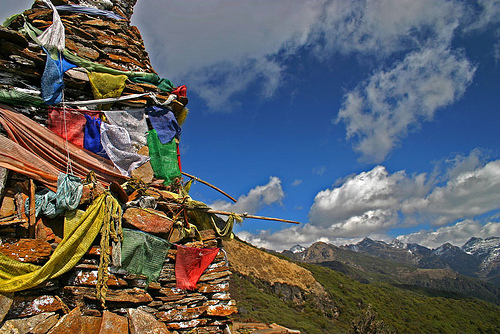 Success is defined as an event that accomplishes its intended purpose. Countries around the world have their own definitions of success. These metrics determine how they rank against other countries and include; Gross Domestic Product, Press Freedom Index, Human Development Index, military spending and so on. One country has decided to redefine how they measure their success.  The tiny country of Bhutan sandwiched between the two most populous countries in the world, India and China, instead measures Gross National Happiness.
The decision to measure Bhutan's success off of a Gross National Happiness occurred over three decades ago. In 1972, Bhutan's young King, Jigme Singye Wangchuck, began his reign at the young age of 16. An isolated kingdom Bhutan was beginning to feel the pressure of modernization. As the leaders of the country discussed the indicators listed above the King mentioned offhand the idea of Gross National Happiness. From this off the cuff remark Bhutan's leaders began to generate a complex survey to measure the actual happiness of the inhabitants of the Kingdom of Bhutan. The measure of Gross National Happiness started with Four Pillars
1. The promotion of equitable and sustainable socio-economic development
2. Preservation and promotion of cultural values
3. Conservation of the natural environment
4. Establishment of good governance.
With a basic premise that "wealth" should be more than just economic indicators the idea of Gross National Happiness began to slowly take off. The idea didn't stopped in Bhutan and has continued to take on new life around the world. In fact, Vermont hosted the first ever United States Gross National Happiness Conference a few weeks ago. At first glance the idea of Gross National Happiness seems strange and absurd to many people. I will confess that I had the same feelings when I first read about it. But two articles I read really changed my mind. The first was on the Politics of Happiness and the second covered the Gross National Happiness Conference which I have linked above.
So why bother with talking about Gross National Happiness? To me, people represent more than simply money. Just to suggest that there's more to a country than Gross Domestic Product feels like a step in the right direction. Certainly, the indicators of Gross National Happiness seem to be a great thing for any country to aspire to. Even know they may not have the greatest GDP or military spending, I think there's something we can learn from the country of Bhutan.
What do you think?
How do you measure happiness?