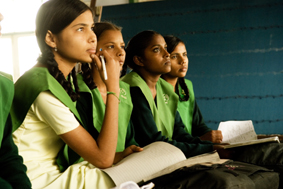 The Education of Girls
We recently brought our first all girls school on board at SeeYourImpact. To say I'm excited would be an understatement. When I first started a few months ago I knew a little bit about the gap between girls and boys education around the world, including the United States, but I can't say that I was truly informed.  It's stunning to me the more I dig to learn what some women have to go through simply to receive an education. I wanted to share some info on the subject that I discovered researching. What's staggering to me are the results of education on a young girls life. It's these results that put Girl's Education on the front burner of causes for SeeYourImpact.
First I'd like to put this into perspective with understanding what the gap is.
What is the gap?
Depending on the region and even country the quality, amount and accessibility of education received by girls varies. Out of the 130 million children not in school 70% are Girls. Consider that worldwide, for every 100 boys that are out of school there are 122 girls. The numbers vary greatly country to country. To give a quick snapshot for every 100 boys out of school in Yemen there are 270 girls, in Iraq it's 316 girls and in India it's a staggering 426 girls out of school for every 100 boys.(UNESCO GMR, 2007)
Why is girls education important?
After establishing that there is a gap I really think we need to answer the question of why education is so vital. Innovations for Poverty Action did a study on Girl Scholarship Programs in Kenya showing concrete results for education. Quantitatively, we can determine that education for women is not just a good thing…it's a GREAT thing. I found jaw dropping stats from the Nike Foundation's Girl Effect which I'd like to share. They have been an inspiration in the field of empowering underprivileged girls in a number of ways.
From their fact sheet consider the following;
1. When a girl in the developing world receives seven or more years of education, she marries four years later and has 2.2 fewer children.
2. An extra year of primary school boasts girl's eventual wages by 10 to 20 percent. An extra year of secondary school: 15-25 percent.
3. Research in developing countries has shown a consistent relationship between better infant and child health and higher levels of schooling among mothers.
4. When women and girls earn income, they reinvest 90 percent of it into their families, as compared to only 30 to 40 percent for a man.
Additionally, according to the WorldBank's page on Girl's Education there are some direct correlations between education and the following;
1. Reduced fertility rates.
2. Lowered infant and child mortality rates
3. Lowered maternal mortality rates.
4. Better protection against HIV/AIDS infection
5. Increased women's labor force participation rates and earnings.
6. Creation of intergenerational education benefits.
What are people doing to change it?
I highly encourage you to read the book Half the Sky and visit the Nike Girl Effect Site. Our blog post here can not do any justice to the tremendous work done by both Girl Effect and Half the Sky. I mentioned earlier how excited we are to have Pardada Pardadi on board as our first all Girls education partner. I encourage you to check out Pardada Pardadi and the work they're doing. By helping a girl attend school you're investing in changing the future.
Who was the first person in your family to go to college? How did it change their life?

Read more »