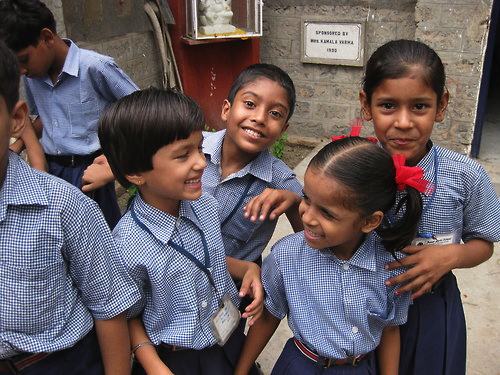 As I got out of the car, all I could hear was the roaring cheer of children running outside of the gates of Amar Jyoti School.  A school that was founded on creating an integrated learning environment for children from low-income backgrounds, as well as, children with disabilities.  As we looked amongst the children, who was poor or who was disabled was hard to distinguish.  All I could see were smiling faces and sparkling eyes beaming with hope.  Children having fun and sharing their laughter with one another.  I have spent a lot of time visiting schools in urban and rural india, going to villages across the country, seeing incredible examples of socio-economic change being made by various organizations, but very few compare to the work being done by Amar Jyoti.
As someone who worked with SeeYourImpact last year for 6 months, I had learned about the great work of Amar Jyoti and Dr. Uma Tuli-ji.  I heard numerous stories and saw several pictures taken by my fellow SYI colleagues on the amazing sights and sounds they experienced in their visit.  Although frankly, no pictures or stories can adequately describe the incredible impact Amar Jyoti has made in the lives of children and families.   It's only once you make the visit, does one really get it.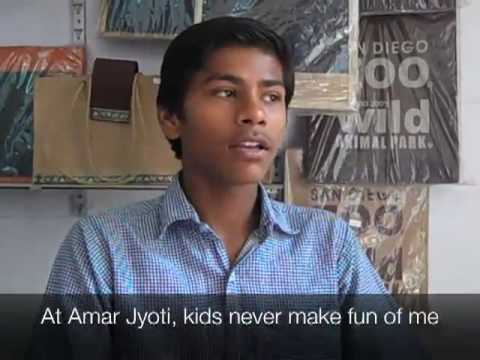 Amar Jyoti is not just a school, but rather, it is a holistic center that includes a school, vocational training, full-service hospital, a canteen that serves home-cooked food to the children, library, computer lab and other such facilities.  It provides students with the necessary support infrastructure to not only have a sound education, but also acquire vocational skills that will help make them immediately employable.  In particular, I was most impressed by the following three things:
1. The deep integration of students low-income backgrounds and disabilities.  The value of this integration helps to instill empathy and compassion in kids at a very early age thereby, providing the opportunity have a much more compassionate and accepting society in the long run.
2. Second, I absolutely was thrilled to see Amar Jyoti providing school education, as well as, vocational studies in an expanse of areas including:  computer / hardware repair, paper-bag making, embroidery / sewing, among others.  In India, 90M students graduate with unemployable skills; Amar Jyoti's focus on integrated education and vocational training helps provide a platform for sustainable development for children coming from underserved communities is what will help break the poverty trap that much of India still lives in.
3. Last, but certainly not least, Amar Jyoti has built a facility complete with the necessary medical infrastructure to take care of the children's healthcare needs, including limb replacements; for absolutely free of cost.  This facility is not only available to Amar Jyoti's students, but to any disabled child who comes to their facility across India in need of a new limb or medical attention.  Such complete care given with a generous, open heart is so heartwarming and just adds to the exceptional impact of Amar Jyoti.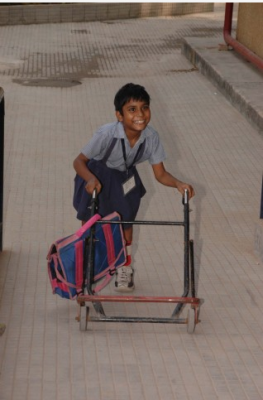 Amar Jyoti is an extraordinary organization and operates at a level above the majority of organizations I've come across in India.  The compassion and care for students to support them along their journey is truly unique and I am convinced that with such organizations in existence, India has the opportunity to provide a more inclusive society for all members of the community.
I'd like to sincerely thank Dr. Tuli-ji and Sundari for their gracious hospitality and for their generous time in giving us an in-depth tour of Amar Jyoti and for sharing with their wisdom, learnings and vision.  Amar Jyoti has really touched me and I can't express the gratitude and humility that resides in my heart after seeing Dr. Tuli-ji's vision in action.  As now a believer, I'd also like to thank the entire donor community that has supported Amar Jyoti throughout the years for giving a platform of hope and growth for underserved communities across India.

Read more »