Blogs we've enjoyed recently
posted May 24, 2010
It's always fun to find blogs that make you stop and think. At SeeYourImpact we've been building up an ever evolving list of some of our favorite reads.  We recently did a post on our favorite books and thought it might be fun to extend it to digital content as well. Of course, this list gets updated on a regular basis but I thought I'd give a snapshot of a couple blogs we really enjoyed this past week to show you what we're reading right now.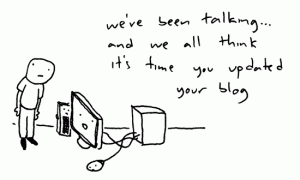 Beth's Blog – One of the reasons I spend too much time on Google Reader –
Charity:Water – It doesn't get more current or funnier than this post.
Community Organizer 2.0 – Clear, concise and lots of talk on Social Media –
Non-profit Tech 2.0 – Provided some very timely updates with info on Facebook, it was much appreciated.
Philanthropy 2173 – Wonderful piece from last Friday morning entitled "Beyond Open Data"
Social Citizen – Great piece on Panera Bread's new "pay-what-you-can-store" store.
Tactical Philanthropy – Had a viral video contest that was really fun to follow along with.
If you don't have a Google Reader account set-up already I really encourage you to do so. It's a fun way to find out what's happening all over the world. Try subscribing to some of the blogs that we suggested above. We'll be posting again in the future with some more good reads of the week and more blogs to follow.