Clean Water for a Family
posted May 28, 2010 by
Casey
Ashley, your donation has made such a difference in the lives of Beng and his family members.  This water filter will provide clean water to Beng, his wife, his three children and a niece and her family.  Now they will no longer suffer from dysentery and will be able to lead normal lives.  Beng's son looks forward to being able to continue his education at a nearby middle school where he will ride the family bike 10 miles and no longer suffer from weekly bouts of illness.  Thank you for your kindness.
Provide another family a reliable source of clean drinking water through the Trailblazer Foundation.
Laser Beams that Kill Mosquitoes
posted May 28, 2010
Sometimes, my research provides an amazing glimpse into the future. While educating myself on the awful effects of malaria in Sierra Leone, I came across new technology that might prevent the spread of malaria. As a malaria vaccine is still in development and insecticides endanger the environment the team from Intellectual Ventures went in another direction…
Laser beams.
That's right, I said it. Intellectual Ventures has developed a technology that literally zaps mosquitoes out of the sky.
Before I saw the video I couldn't have imagine this, but the team who invented this is not your normal team. The Intellectual Ventures Lab is run by Nathan Myhrvold (who besides inventing machines that kills mosquitoes is a World Champion BBQer and studied under Stephen Hawking.)  The neat thing about the team is that they aren't working on any particular invention, they're figuring out how to improve inventions.
Mr. Myhrvold presented his team's invention recently at a TED talk.
Not only is the machine capable of zapping mosquitoes out of the sky it can also identify what specific insect it is and whether it is a male or female (malaria carrier) mosquito. The best part? The device is built out of common consumer electronics. Mr. Mhyrvold went on to take the demonstration one step further. Displaying a map of Madagascar he showed how over time certain areas are more susceptible to malaria. Since mosquitoes breed in pools of water malaria outbreaks occur more regularly in rainy seasons. Using the mapping feature it's possible to use the laser to set up perimeters around areas most likely to have outbreaks and in particular protect those (particularly in malaria clinics) from getting bitten again and further spreading the disease.
After watching the video it really made me think, what incredible solutions are out there that we haven't explored because they seemed too outrageous. It's people like Nathan Myhrvold and his team at Intellectual Ventures Lab that remind us that sometimes the solution may be outside the box. Particularly in the world of non-profit and philanthropy it's important that we stay inspired and never stop exploring or inventing.
Can you think of an out of the box idea that changed how you think about a problem?
Malaria
posted May 27, 2010
The Bad News? Malaria is a killer. The Good News? Malaria is preventable and curable.
You won't hear about malaria occurring in the United States as it was virtually eradicated here in the middle of the last century. Which means that many of us are unfamiliar with its terrible effects.  The elimination of the disease  in the United States was hailed as a miracle for mankind, saving millions of lives. However, the story didn't end on that happy note. The early problem solvers ran out of solutions and in some cases time. In places where malaria had nearly been eliminated it came storming back. The disease was not destroyed and today malaria continues to kill all over the world. Remember the good news up top, don't worry…it's coming.
The parasite and the mosquito.
Malaria is caused by a species of the plasmodium that's spread through populations by infected mosquitos. This parasite is equally devastating as it is debilitating. Children infected with malaria miss school and can be mentally impaired for life by the parasite. However, the good news is that we can do something. There are two ways to deal with the problem;
1. Prevention -Stopping the mosquitos
2. Treatment – Curing/Vaccinating for the disease.
I was curious to learn about both treatment and prevention of malaria. It seems that the key to stopping malaria is not any one thing but rather a combination of elements. As currently, there is no effective malaria vaccine, the World Health Organization suggests that malaria nets be used as an effective method of prevention. Nets are normally treated with an insecticide, such as permethrin, which increases the effectiveness of the net by killing mosquitos that pass through holes. After spending a lot of time researching it seems to me that the use of insecticides is probably not a long term solution due to the threat of environmental damage and in the future we will see different approaches such as Nathan Mhyrvold's Intellectual Ventures mosquito zapping laser beams. (we'll deal with this more later)
I found that prevention stood out as the first step in stopping the cycle of malaria. At SeeYourImpact we have partnered with Door of Hope out of Sierra Leone, a group we mentioned in our last post. Door of Hope works towards the prevention of malaria. By providing mosquito nets and proper nutrition for children we can stop malaria.
Do you know of any innovative organizations that are working to stop malaria?
Hello SeeYourImpact
posted May 26, 2010 by
Casey
Hello, I am Casey, Intern extraordinaire at SeeYourImpact. I've been asked to introduce myself, and I can't wait to add my voice to the SeeYourImpact blog.
It is now week two, day two, of my internship with SeeYourImpact, and thus far I have only committed a handful of faux pas. Last Friday, during my first group meeting, when asked "Is this your first Internship?" I smartly responded with a long blank expression before an eventual "yes." Needless to  say, I could have done without the quick witted thought bubble. Despite my brilliant introduction, the folks here at the See Your Impact office have been extremely kind and open about incorporating me into their daily work.
One thing that I find absolutely amazing is the work dynamic in the SeeYourImpact office. The main work space is open walled with brick red dividers creating spacious cubbyholes where most of the work takes place. In the back there is space for a midsized conference table, or perhaps the ominous oak desk of a malevolent taskmaster. Fortunately the space is now occupied by a Ping-Pong table, perhaps it is the malevolent taskmaster. Currently, as I labor away under the harsh natural lighting, provided by a window to my back, I can faintly hear Yosia's music as he debugs the website, which blends into the rhythmic tapping of Steve's keyboard as he develops (innovates) new bugs for Yosia to fix. In the far corner, Chuck schemes over his Mac Book, planning sweeping marketing campaigns to take the world by storm. Across from him, Benjamin,  who is currently obscured by the wall divider, and presumably working diligently at landing another partnership deal or plotting a new task for his intern underling. And of course there is Digvijay, the grand poohba of the office, who is mysteriously absent, no doubt interfacing with Seattle's upper crust to forward See Your Impacts presence.
This has been an interesting experience, all three days of it so far, because the environment here is both more relaxed and driven than what I am used to. For some background, I am a rising sophomore at a college in Portland where I'm studying economics. The office very much has the vibe of, what I can only imagine to be, a tech start-up. Everyone works methodically at their own tasks but when a task requires more people the whole office pitches in to help; whether it be developing new ideas for the direction of the charity, web site testing, or diagnosing some break in the cosmos. From the perspective of a new intern, I can actually feel the enthusiasm vibrating through the office, excited banter erupting sporadically from different pockets of the room. Based on what I have seen thus far, there is no doubt in my mind that See Your Impact will become the Kiva of the personalized micro-giving, impact providing, philanthropic world.
On another completely relevant note: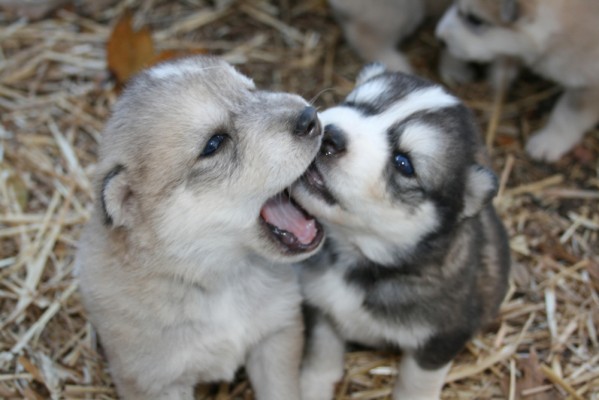 Hope in War-Torn Sierra Leone
posted May 25, 2010
Every new partner that becomes part of the SeeYourImpact network provides an opportunity for us to learn, explore new cultures, discover creative solutions to difficult problems and engage with people creating change. We recently partnered with a group named Door of Hope, a member of the DevelopAfrica network. It's been fascinating and sometimes simply devastating to learn about the history of Sierra Leone where Door of Hope is based.
The Republic of Sierra Leone was founded in the 1971 ten years after independence was declared from the United Kingdom. Sierra Leone's rich cultural history precedes that by thousands of years however.  A country of fifteen ethnic groups and many religions Sierra Leone has historically been devoid of major ethnic divisions and religious divisions.  However, the ability of Sierra Leone to bring together various ethnic groups and religion peacefully could not stop warring political factions from destroying the country.
A Country Torn Apart by War
In 1991 a Civil War which would last the better part of a decade began. The war wreaked havoc on Sierra Leone's people leaving an estimated 75,000 dead. Infrastructure was destroyed and Sierra Leone quickly became one of the poorest countries in the world. After the Civil War ended in 2002 Sierra Leone began the long slow process of healing. Today the country is steadily rebuilding and growing. Despite this growth Sierra Leone ranks as the third lowest country on the Human Development Index and seventh lowest on the Human Poverty Index. Noted for it's considerable education achievements and entrepreneurial skills before the Civil War, Sierra Leone is now fighting a different battle now, to keep students healthy and in classrooms.
The future of Sierra Leone
Door of Hope was founded by an elementary school teacher, Joshua Sandy, who noticed that students (particularly girls) in ill health were dropping out an a high rate. Joshua knew that the future of Sierra Leone resides within the children and he decided to do something about it. With meager resources he brought together like-minded community members to help meet the health, nutritional, and educational needs of vulnerable and under served children. Their mission "to build communities where all would have equal opportunity to live a dignified life and have access to available resources that will make them the best they can be." Today Door of Hope provides the opportunity to change a life through a simple gift. Healthy students are a vital part of the future of Sierra Leone
Has someone in your community brought together resources to solve a problem? How did they do it?
Blogs we've enjoyed recently
posted May 24, 2010
It's always fun to find blogs that make you stop and think. At SeeYourImpact we've been building up an ever evolving list of some of our favorite reads.  We recently did a post on our favorite books and thought it might be fun to extend it to digital content as well. Of course, this list gets updated on a regular basis but I thought I'd give a snapshot of a couple blogs we really enjoyed this past week to show you what we're reading right now.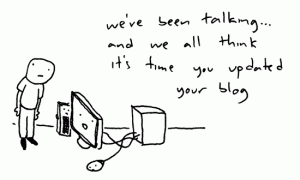 Beth's Blog – One of the reasons I spend too much time on Google Reader –
Charity:Water – It doesn't get more current or funnier than this post.
Community Organizer 2.0 – Clear, concise and lots of talk on Social Media –
Non-profit Tech 2.0 – Provided some very timely updates with info on Facebook, it was much appreciated.
Philanthropy 2173 – Wonderful piece from last Friday morning entitled "Beyond Open Data"
Social Citizen – Great piece on Panera Bread's new "pay-what-you-can-store" store.
Tactical Philanthropy – Had a viral video contest that was really fun to follow along with.
If you don't have a Google Reader account set-up already I really encourage you to do so. It's a fun way to find out what's happening all over the world. Try subscribing to some of the blogs that we suggested above. We'll be posting again in the future with some more good reads of the week and more blogs to follow.
Ann will be able to attend Njonjo Girls High School!
posted May 24, 2010 by
Casey
Ann has been guaranteed a full year of tuition at Njonjo Girls High School because of your generous support! LittleDrops Orphanage Fund has supported Ann through the Hopeful Grandmothers Orphanage in Kenya. This band of 30 grandmothers found themselves caring for their grandchildren due to the deaths of their sons/daughters. Ann shares a similar story, and  her education has not been easy. She lived with her single mother until her death then she moved in with her grandmother. Her grandmother recently passed away, leaving Ann in the care of an uncle who is struggling to support her. Ann remains focused on her goal of becoming a pediatrician and just started her first year of high school. She is very excited for the opportunity to attend boarding school and promises to make excellent grades this term! Oluwadara, Digvijay and Paola – thank you so much for helping to make Ann's dreams come true!
Make another dream come true, support a child like Ann at LittleDrops Orphanage Fund
LifeWater Ceramic Filters
posted May 21, 2010
It's amazing how a simple technology can save a life. In the United States we're lucky that getting water is as easy as turning on a faucet. Sometimes for populations of developing countries the infrastructure simply does not exist to provide this essential resource.  Providing access to this resource is one of our core causes at SeeYourImpact. We actively seek to identify and partner with groups working in this area and it's always exciting when we partner with a like minded group creating change in communities. Recently, we had the privilege of being introduced to a group working out of Laos called LaoWater Resources (LWR). After talking I decided to dig a little deeper into Laotian history and was literally stunned.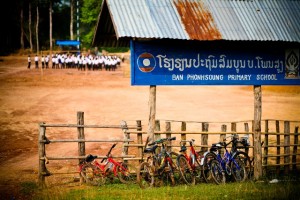 Lao Today and Lao's History
A total of 44% of the population in Laos live below the poverty line of $1.25 a day. For nearly 30 years, from 1944-1975 Laos was ravaged by war as first the Japanese, then the French and finally the United States fought with the Communist Independence Movement. Tragically to this day Laos holds the distinction of being the most bombed country in the world. In fact there are an estimated 80 million bombs that did not detonate spread throughout Laos today. With only a small amount of arable land many farmers turn to selling the bombs for scrap metal, a dangerous situation. With barely enough money to even put food on the table many families struggle with access to clean water. Our partner LaoWater Resources encountered this lack of access to clean water firsthand. But by using local resources and a sustainable solution they have found they can create a postitive change. LaoWater Resources helps by providing ceramic water filters to communities in Laos. I personally get excited when learning about the technology behind our partners and wanted to share how ceramic filters work.
How Ceramic Filters Work
The technology behind a ceramic filter is fairly simple. Ceramic allows only molecules the size of water or smaller to pass through to the other side effectively removing many contaminants. Additionally filters are treated with silver to to kill bacteria and prevent the growth of mold and algae. Putting it altogether results in a cool mechanism.The picture on the right shows water being poured into a filter with a spigot for dispensing on the bottom.
The simple device on the right has the ability to provide water for years. I encourage you to visit the Laowater Resources Site and provide a sustainable source of water for a family.
What innovative ways have you seen technology used to change lives?
Start a Movement
posted May 19, 2010
Occasionally I'll watch a video that really hits home. The video below from a TED talk by Derek Sivers is a great example.
The video is fun and entertaining but it makes a great point. Every movement starts with a leader, but as Sivers states "leadership is overglorified". It's the first follower who legitimizes the movement and teaches others how to follow.
As a startup non-profit I find the analogy particularly applicable. A good founder avoids getting caught up in their own ego, they realize that it's their followers who make their movement great. Maybe all they truly need is 1,000 of them. The struggle is that many people get caught up in a cause and forget that many hands make light work. In other words…
It's all about your followers.
Inspire. If you can inspire someone else you've accomplished vastly more than you could have alone. As the video shows it was the first follower who truly ignited the movement. Can you imagine if each of your followers or supporters were cheerleaders for your cause inspiring others? Remember, a follower can be a donor, customer, or volunteer. They're someone who's invested time, money or both into your movement.
What to do with followers?
Overall, create opportunities within your organization/company for people to get involved. The key component is making people feel part of a movement. If what you're doing inspires others make sure you have a place for them to dance as well! You need to be moving to create a movement. Once you've given your followers room on the dance floor and got them dancing how do you keep them there?
Freedom and Responsibility
Your followers are there because they want to be there. In the non-profit world it's easy for them to walk away if it gets to be too much. The reasons could be money, time or any combination of things. So how do we keep everyone dancing? As we saw in the video the group kept building, the more your followers inspire the more they'll inspire those around them. Sivers notes that the followers inspire the next wave of followers, not the original leader. Keep in mind, everyone's dance was unique. Each person had the freedom to express their creativity while still participating as a group.
The key takeaway? Just keep dancing.
What have you done to inspire others in your organization? Have you ever looked like the lone nut?
BioSand Filters – Low Cost, High Impact
posted May 18, 2010
One of the best parts of working for SeeYourImpact is being introduced to incredible new organizations creating change all over the world. It also provides for some excellent learning opportunities. Recently we partnered with the Trailblazer Foundation who are using BioSand Filters, an amazing low cost technology water filter, to change lives in Cambodia.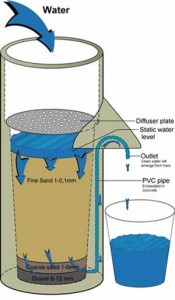 How is a BioSand Filter made?
The beauty of the BioSand filter is its simplicity. All that's required is concrete or a plastic barrel, a diffusion plate, a lid, fine sand, coarse sand, gravel and some PVC pipe. The concrete is poured into a mold and the PVC pipe is dropped in to create the filter base. Gravel, coarse sand, and fine sand are added inside. A diffuser plate is then dropped in to sit a few inches above the water level. Finally water is poured in and the lid is placed on top of the system.
How does a BioSand Filter Work?
The top layer of sand traps the majority of micro-organisms, which create a biological layer that eats contaminants.  This layer is aptly named the "Schmutzdecke" (German for dirt cover) The schmutzdecke needs to stay wet and undisturbed to work properly, that's why in the diagram you'll notice the diffusion plate and the water level at a higher point. Further down sand and gravel remove contaminants that cause odor, cloudiness, and affect taste. For further info see the BioSand Filter on wikipedia.
Is it effective?
BioSand Filters can provide up to 80 liters of clean water per day while removing 95%-99% of organic contaminants.
I have included a video from the Trailblazer Foundation showcasing their use of BioSand Filters and showing how it changes lives simply by providing clean water!