SeeYourImpact Reading List
Working for SeeYourImpact, I often get asked to recommend books on International Development and Charitable Giving.  As a result, I began to compile the list of books you see below, which range widely in their perspective, from the promotion of large scale institutional change through the Millenium Development Goals to outright rejection of development aid and the support of local, small-scale solutions.  Thanks to Wendy Adams and Joshua Crossman for helping compile this list!  Enjoy, and please do not hesitate to comment with other book recommendations!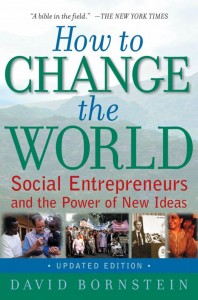 How to Change the World: Social Entrepreneurs and the Power of New Ideas - David Bornstein
This book is a great introduction to an increasingly popular buzzword, 'social entrepreneurship.'  Social Entrepreneurship's importance is derived directly from the Millennial Generations almost unanimous desire to find solutions to some of our planets most pressing challenges.  An inspiring read, Bornstein's book promotes some fascinating and unique solutions being implemented in the United States and abroad.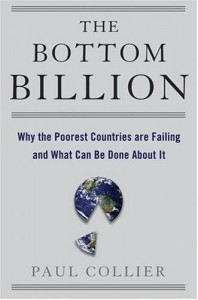 The Bottom Billion: Why the Poorest Countries are Failing and What Can Be Done About It - Paul Collier
While large countries like China, India and Indonesia are the primary focus of conversations on economic development, dozens of smaller countries have been largely forgotten.  Collier's 'bottom billion' refers to people in 50 countries that struggle to keep up with globalization as a result of bad governance, corruption or civil war.  It is up to the world's most developed countries, Collier argues, to help pull these 'failed states' out of extreme poverty.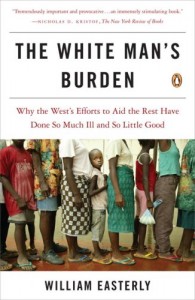 The White Man's Burden: Why the West's Efforts to Aid the Rest Have Done So Much Ill and So Little Good - William Easterly
An admirable attack on the west's utopian aid establishment, Easterly's inspiring book pushes back on our existing attempts that provide neither accountability nor any proof of impact.  Instead, he pushes for supporting local, ground-level organizations that have a better sense for what needs to be fixed and how best to create change.  A unique stand against organizations like the World Bank (which he once worked for).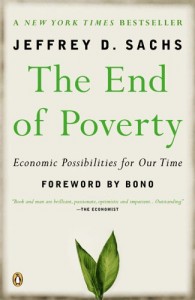 The End of Poverty: Economic Possibilities for Our Time - Jeffrey Sachs
Certainly one of the most important and comprehensive books on poverty ever written, Sachs (of Columbia University's Earth Institute) argues that we can end extreme poverty by 2025. Following an overview of his experience working with governments throughout Africa, Eastern Europe, and China, Sachs lays out nine necessary steps to end extreme poverty. A very important introduction to the global poverty discussion.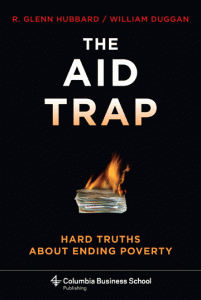 The Aid Trap: Hard Truths About Ending Poverty – R. Glenn Hubbard and William Duggan
With a focus primarily on Africa, Hubbard and Duggan argue that current aid efforts are not working, and directly oppose the Millenium Development Goals promoted by Jeffrey Sachs. The authors argue that these goals serve only to manipulate local economies, preferring instead the creation of a functioning business center. Combative and controversial, and a great counterpoint to Sachs' approach.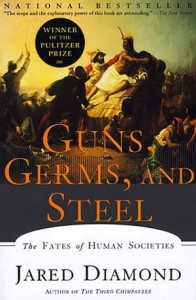 Guns, Germs and Steel: The Fates of Human Societies – Jared Diamond
Originally published in 1997, this book has become a mainstay of university level courses on international development.  Starting his analysis with the Ice Age and moving through to the modern era, Diamond discusses how geography, ecology, government and technology impact development. A great introduction to the huge divisions between the world's modern economies.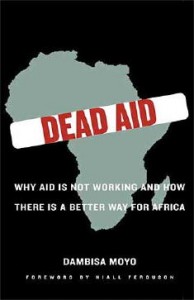 Dead Aid: Why Aid Is Not Working and How There Is a Better Way for Africa – Dambisa Moyo
One of the few books written on African aid by someone from Africa, Moyo (a native of Zambia) recommends a tough alternative, a complete stop on aid to Africa that Moyo feels only promotes corruption and dependence. Instead, Moyo pushes for a policy of investment that has worked in other developing countries.  Ultimately, despite her stance as an anti-aid advocate, her outlook is optimistic and positive.
Changing attitudes, changing lives
After great visits to the Blind People's Association in Ahmedabad, and Padma Industrial School in Tamil Nadu, I recently visited another SeeYourImpact partner charity, Amar Jyoti, based in Delhi.
SeeYourImpact is a charity network that cost-effectively enables donors to give small, life changing lifts to people in need through carefully vetted charitable organizations and directly see the impact of their donations.
Our partner charities that support education are about far more than classes and homework. Sponsoring the tuition of a child often means providing them lodging, meals, uniforms, vocational training and medical care. When you support a student at Amar Jyoti school, you also support an integrated educational environment (50% of their students are mentally or physically handicapped) that teaches equality and respect for all its students.